Wacom tablets and displays make learning and teaching easy, giving you the ability to handwrite and annotate, create graphs and write formulas, collaborate with ideation and visual thinking, point and highlight, and sketch and draw.
Shop the range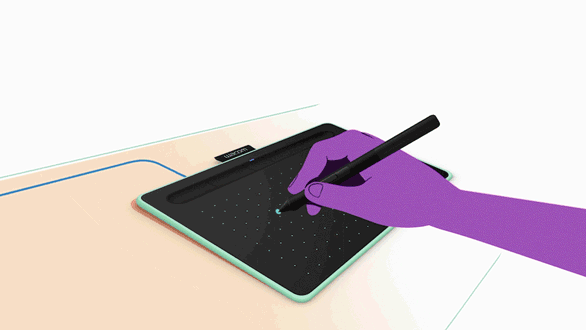 As the leaders in 'the digital ink experience', Wacom have over many decades inspired designers and illustrators, from the professional to the simply passionate, to create via the use of digital pen and screen technology. From annotation to visual art creation, Wacom tablets help you to quickly and easily save and share notes, designs, illustrations and more.
One by Wacom
Start writing or creating digitally
Sketch, draw, annotate and sign documents with a natural pen experience.
Shop now
Watch the video
Wacom Intuos
Everything you need to start creating digitally
4,096 pressure levels | Shortcut keys | Bundled with software.
Shop now
Watch the video
Wacom Intuos Pro
Built for digital artists and designers
Paper-like feel | Premium pen technology | 8,192 pressure levels
Shop now
Watch the video
Wacom One
Draw, Annotate and write directly on the display
13.3" display | Natural pen feel | FHD Resolution.
Shop now
Watch the video
Choose the best Wacom tablet for you
One by Wacom

Wacom Intuos

Wacom Intuos Pro

Wacom One

Bundled software

Kamiapp, Explain Everything, Collaboard, and Limnu (3 month licence)
Corel® Painter® Essentials™ 7 (3 month licence), Corel® Aftershot™ 3 (3 month licence), Clip Studio Paint Pro (2 year licence). Number of software depends on Wacom Intuos model.
Adobe After Effects and Adobe Premier Pro (2 month licence)
Adobe Fresco (6 month licence) and Clip Studio Paint Pro (3 month licence)

Pen pressure levels

2048
4096
8192
4096

Pen tilt

-
-
±60° tilt
±60° tilt

Pen angle

-
-
360° angle
360° angle

Connection

USB-A – micro USB
USB-A – micro USB
USB-A – USB-C
USB-A + HDMI

Bluetooth

-
Yes (except Small no BT model)
Yes
-

Active Area

152 x 95 mm
S: 152 x 95 mm
M: 216 x 135 mm
S: 160 x 100 mm
M: 224 x 148 mm
L: 311 x 216 mm
13.3"

Dimension

210 x 146 x 8.7 mm
S: 200 x 160 x 8.8 mm
M: 264 x 200 x 8.8 mm
S: 269 x 170 x 8 mm
M: 338 x 219 x 8 mm
L: 430 x 287 x 8 mm
225 x 357 x 15 mm

Weight

260g
220g-418g
450g-1.3kg
1kg

Express Keys

-
4
6 to 8
-

Multi-touch

-
-
Pan, zoom, rotate and custom mode
-

Compatible

Windows
Mac
Windows
Mac
Android (check for compatibility)
Windows
Mac
Windows
Mac
Android (check for compatibility)

Colour

Black and red
Black, Pistachio, Berry
Black
White

Display

-
-
-
FHD 1920 x 1080