Shop online and pick up for free in-store
Place a Click and Collect order online and choose the most convenient store to collect your order from.
Contactless Click & Collect
We've introduced Contactless Click & Collect in select stores. That means you can order the product online, and pick up from your local store, while limiting the need for physical contact with our team.
How it works
1

Order online and select Click & Collect.

2

Wait to hear from us. You'll receive a notification when your order is ready.

3

Upon arrival to store, follow the Contactless Click and Collect signage for collection information.
You can see if your store has Contactless Click & Collect by checking the availability section of the product page.
Do it in just 4 simple steps
Choose your products online
Add the products you would like to purchase to your shopping cart. When you're ready, proceed to checkout and follow these steps.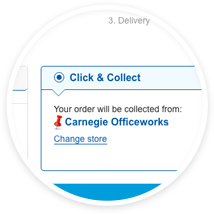 Select Click & Collect at checkout
Select Click and Collect as your delivery option when checking out. Under 'Store Pickup Address', enter your postcode or suburb, and select your preferred store and complete the checkout process.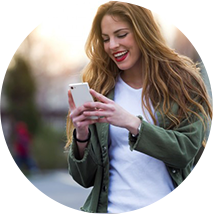 Wait to hear
from us
When you've placed your order, a store team member will send you an email and SMS to let you know that your order is ready for collection.
Collect your order
in-store
To collect your order, please bring your order confirmation or some photo identification and see one of our team members in-store.