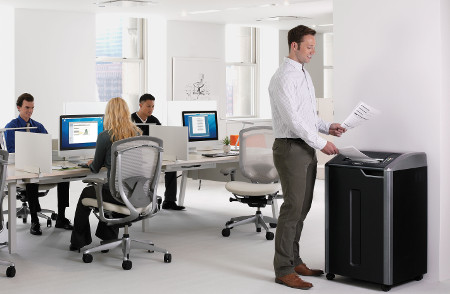 Home Shredders
These compact shredders are best suited to occasional shredding. They are ideal for keeping your home office clean and tidy.
View Range
Small Office Shredders
Ideal for moderate shredding needs in the home or small office. These shredders range from strip cut to micro cut and are designed to save you time and money.
View Range
Business Shredders
These shredders are ideal for destroying large amounts of information quickly. They can run continuously and shred more than just paper.
View Range
Strip-cut Shredders
Strip-cut shredders are your basic form of security. They will cut your paper into long, vertical strips. Strip-cut shredders are suitable for shredding non-sensitive information.
Cross-cut Shredders
Cross-cut shredders cut the paper into smaller, harder to reassemble pieces. These shredders are best for shredding sensitive personal information.
Micro-cut Shredders
Micro-cut shredders offer the most secure cutting style, shredding paper into tiny pieces. They are ideal for shredding confidential information.
Auto Feed
Auto feed shredders allow you to spend less time shredding. Simply load the automatic feed with paper and leave it to do the shredding for you.
Sheet Capacity
The sheet capacity of a shredder indicates how many sheets can be shredded at one time. The larger the sheet capacity, the more pages you can shred at a time. Selecting a shredder with a large sheet capacity will save you time.
Bin Capacity
Bin capacity indicates the capacity of the shredder waste bin. Choose a shredder with a larger bin size if you shred a large volume of paper.
Run Time
Run time denotes the maximum time which the shredder can be in continuous use (on time) and the cooling off period (off time). Some shredders have continuous shredding, where the shredder can be in continuous use without a cooling off period.
Cut Types
Cut type directly relates to the level of security required. For non-sensitive information, strip cut shredders will suffice. Cross cut shredders are best for shredding personal information, while micro cut shredders are ideal for shredding confidential information.
Features
While all shredders will take care of paper, you may want to shred other things such as staples, paper clips, credit cards and CD/DVDs.
Shredder Oil
Keep your shredder working efficiently and free of wear and tear with shredder oil.
View shredder oil
Shredder Bags
Keep your shredded paper neat and tidy with a selection of shredder bags.
View shredder bags
Featured Items