How to Put Together the Best-Ever Colouring Kit for Kids
Learning
| By Amy Vagne
| May 18, 2020
Your children's colouring skills are only as good as their pencils and crayons. This comprehensive colouring kit for kids will help fuel their creative spirit.
From paper to pencils, sketchbooks to stencils, there's so much to choose from when it comes to drawing and colouring materials. With options for every kind of artist, you can create the best-ever colouring kit for kids that will be perfect for every imaginable colouring activity.

Hot Tip Ensure your supply stash is extensive, as allowing kids to choose their own equipment can really spark creativity and experimentation.
When Kids Are Starting Out, It's Crayons to the Rescue
According to occupational therapists, children aged 2 to 4 can struggle to hold traditional writing tools like pens, pencils and textas – they haven't yet developed the fine motor skills necessary and their little hands can't find the right grip. Instead, choose jumbo, easy grip or egg-shaped crayons for their first forays into doodling and drawing.

Think outside the box and find everyday ways for little ones to get arty – bathtub, body and window crayons are genius. Primary-age children are ready to get a bit more sophisticated: go for larger packs with an array of colours. Crayons are a top choice because they allow kids to blend colours and experiment with shading and pressure.
What To Try
Decide Which Colouring Pencils Will Suit Your Kids Best
There are lots of options to suit any budget. When making your choice, consider the child's age (thicker pencils are easier for little hands to hold) and skill level (artist-grade coloured pencils have a higher concentration of high-quality pigments than those for everyday use).

For budding artists, you can't go past Derwent pencils; highly pigmented and with a creamy application, they're considered professional quality. For beginners, a classic colouring pencil set from Crayola or Faber-Castell makes a good gift. Both brands offer a great range of colours with soft leads for easy blending. And don't forget the sharpener – gotta keep those pencils on point!

If your kiddos need to work on their grip, look for triangular pencils; most of the big brands make them. Mechanical pencils, which you might know as pacers, are also an option for drawing. They don't require sharpening and their fine leads create consistently clean lines. They're popular in Japan because of their fine tips, are ideal for intricate detailing and you may not know that they come in a range of coloured leads as well as the traditional grey.
What To Try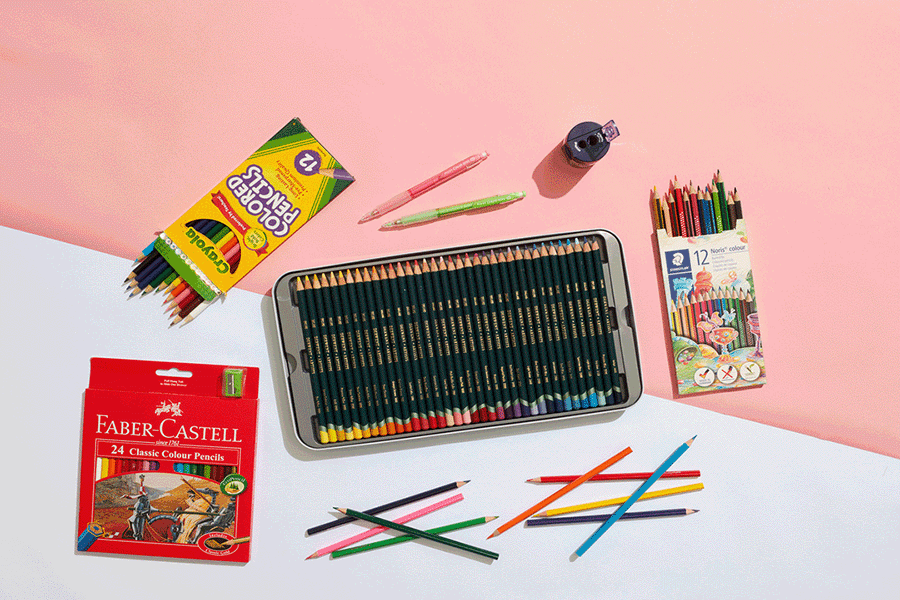 Don't Forget Coloured Markers
For junior creators, look for washable, coloured markers with lids that are easy to handle. Crayola markers are your go-to, with ink that wipes off surfaces and washes out of clothing. As their expertise grows, consider an upgrade: Faber-Castell connector pens are fab additions to your kids' colouring kit because they snap together for easy storage.

Sharpies are super affordable and come in every colour in the spectrum. For novelty, scented markers are really fun. Colouring enthusiasts also swear by Copic markers; they contain a watercolour-like ink which offers better blending and layering.
What To Try
Make Sure There's Plenty of Paper and Colouring Books
Here's a tip for keeping mini masterpieces in check: invest in some kids' colouring books, scrapbooks or visual art diaries. When inspiration strikes, whip out their "special" book and away they go. Soon you'll have a neat portfolio of all their doodles and designs!

For little munchkins, try Crayola's Color Wonder mess-free range. The markers are clear and ink only appears on the special paper, so there's no drawing on walls or floors. Once kids hit age 4 or 5, they're ready to tackle more conventional colouring books. Find one that appeals to their areas of interest, whether that's PAW Patrol or princesses.
What To Try
Mastered the Basics? Embrace Kids' Activity Books
Learning to draw is tons of fun and it boosts concentration, fine motor skills and hand-eye coordination. But up to the age of 4, a child's drawing style is often all about the scribble; it's not until the 4-to-7 age bracket that you'll see recognisable shapes and symbols emerge.

At this age, how-to-draw books and kids' activity books deliver step-by-step guides that are easy to follow and will help develop their drawing skills. Winning! They'll also need good lead pencils (the Staedtler Mars Lumograph range is a favourite), a quality eraser and plenty of drawing pads. Have tracing paper on hand, too, as fledgling artists begin by taking inspiration from art in the world around them.
What To Try
There's More to Drawing and Colouring Than Sitting Down
Be inventive! Some kids struggle with sedentary tasks and may need a fresh approach. Get outside and let them go crazy with coloured chalk on the footpath. A mini whiteboard and markers make for communal drawing fun. Stencils can provide a jumping-off point for their imaginations. Invest in some watercolour pencils and have a blast transforming simple sketches into museum-worthy masterpieces.

And don't forget that drawing kits can also make the best birthday gifts.
What To Try
Keep Kids' Colouring Kit Organised
You've amassed your supplies for their colouring kit, now keep it neat with the right type of storage. Pencil cases keep similar gear together and make life easy if you're moving between home and school.

Cups and caddies ensure desks are free from clutter and the right tool is within reach. Sort your stash into a mini set of desktop drawers and your kids will be over the moon! Tidying up is extra easy if everything has a place. If you've got the space, set up a dedicated craft corner with a set of plastic tubs or even a movable trolley on wheels.
What To Try
Info! Information correct at time of publication. Global trade conditions may impact availability of some items. We apologise for any inconvenience.