The Tech Gadgets to Buy Before the Financial Year Ends
Business
| By Stephen Fenech
| May 15, 2020
Got some money left in this year's budget? Take advantage of EOFY tech deals and upgrade tech gadgets including laptops, smartphones, printers and more.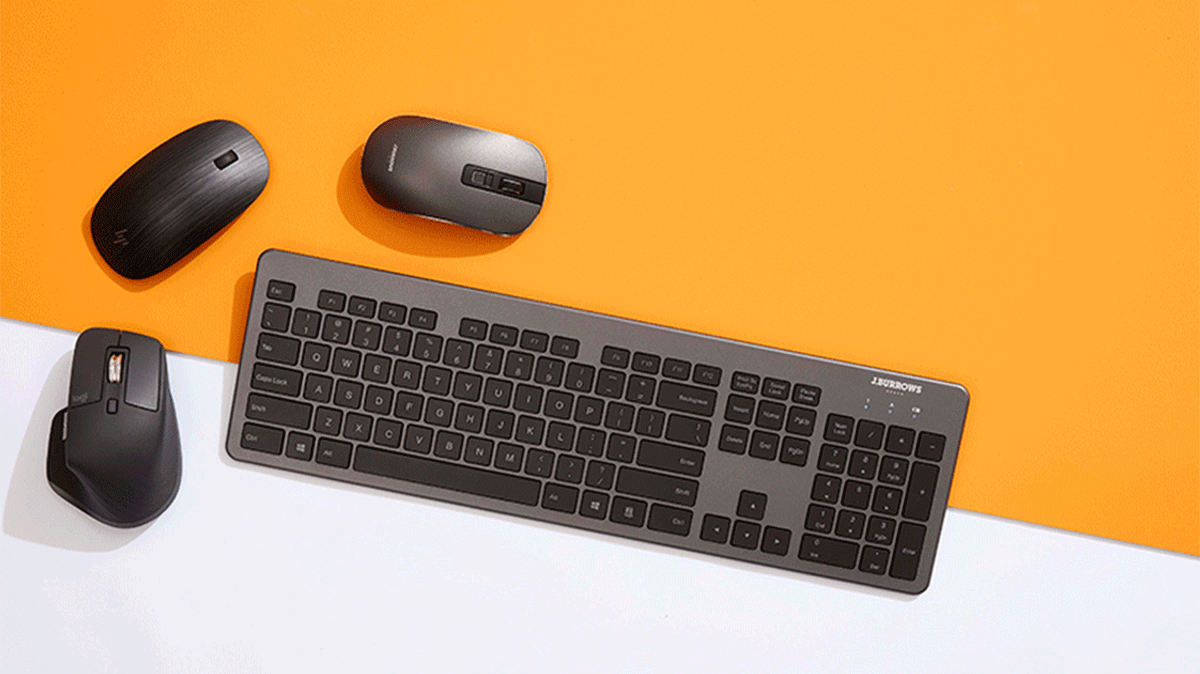 Does your business need vital tech upgrades? If you've budgeted for the costs, the time to buy is now – before the financial year ends. It doesn't matter if you're after the latest wireless technology, laptop, scanner, or printer, you can take advantage of both competitive pricing and favourable tax deductions and write-offs. Here are tech gadgets to buy before the financial year ends.
Laptops That Offer Style, Speed and Performance
Today's laptops are more powerful than ever and give users the opportunity to untether themselves from their desk.

The HP 13.3-Inch Envy Laptop Core i7 runs the Windows 10 operating system and includes the latest 10th generation Intel Core i7 processor, with the power and performance to handle tasks like CAD design, video editing and 3D modelling. Design-wise, the HP laptop is sleek and stylish but it also has a fast 512GB SSD (solid state drive) and a battery life of up to 19 hours – enough to power through two days of work.

For looks, value and versatility, the Lenovo 14" IdeaPad 2-in-1 Notebook is a standout. It includes a 14-inch LCD high definition screen, 8GB RAM and a 256GB SSD, which is impressive at this price point and, with an Intel Pentium processor, it is suitable for a wide range of tasks including photo editing and coding. When it's time to relax, it can also handle the latest games and stream your favourite content.

Macbook Air 13.3" 1.1GHz 256GB ticks the boxes when it comes to design and performance for macOS users who want to use tax time to elevate their laptop computing experience. The device, available in gold, space grey or silver, has an eye-catching 13.3-inch Retina display with TrueTone technology, which offers a consistent display regardless of the light source around you, to help prevent eye strain and reduce overexposure to blue-toned light which may disrupt sleep patterns.

It also has Touch ID for added security and two Thunderbolt 3 (USB-C) ports, which can be used for data transfer, power and to connect external monitors. If you're not familiar with Thunderbolt 3, know this: it's a lot faster than a regular USB connection, transferring data at up to 40GBps and up to 15W of power from the same port.
Work Smarter with a Smart Business Hub
As of late last year, only 14% of Australians owned a smart speaker, according to Nielsen research, but given the benefits of smart home devices, more and more are likely to invest. Why? For business owners, a smart speaker can be used in a number of ways – from being a virtual assistant to controlling and monitoring other connected smart devices.

The latest smart speakers, like the Google Nest Hub Max, have a display, which makes them even more versatile. Ask it to check your calendar to see what your day looks like, or set reminders for your next meeting (and get traffic updates before you leave the office). You can make video calls through it and monitor office security cameras. And when it comes to downtimes, it can play music or YouTube videos.
Secure Your Office Space with Wireless Cameras

Wireless cameras can offer a new level of security and peace of mind. Consider upgrading your security to include the Arlo Ultra 4K Wireless 3 Camera System, an ultra-high resolution, connected solution that can be set-up inside and outside in minutes. The three cameras can detect intruders and even the sound of breaking glass and capture a 4K video clip and send you an instant notification to your smartphone.
Smartphones to Ensure Productivity on the Go
Smartphones have become a useful and ubiquitous tool for business, often as powerful as a laptop. They are a legitimate business expense, so if you're looking to upgrade, mobile phones are the tech gadgets to buy before the financial year ends. The new Samsung Galaxy S20 Ultra 5G 128GB offers a powerful 12GB of RAM; a longer battery life; the latest pro-level cameras; and 5G connectivity for even faster email and downloads.

The iPhone 11 256GB is as powerful as it is beautiful – and perfect for those who see work as a thing they do rather than a place they go. You can get a lot done on the road with the iPhone 11 thanks to the onboard A13 Bionic Chip that puts real power in your hands if you need to run several applications at once and multitask on the move.

It also has a dual 12-megapixel camera, wireless charging, tools for editing photos and videos – and with Face ID, the device will keep your data and documents secure.
A Better Mouse for Better Desk Life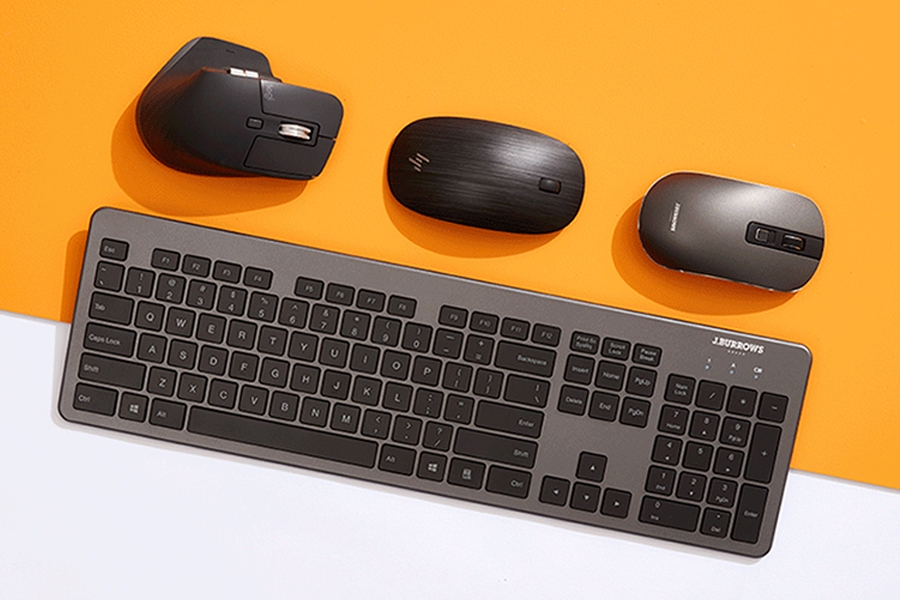 For those who spend a lot of time in front of their computer, a mouse is critical to productivity and efficiency. Whether you're an Apple or Microsoft user, there are a number of new mice to choose from: one of the best is Logitech's MX Master 3 Wireless Mouse, which is ergonomically designed for comfort during long work days.

It can work on all kinds of surfaces, including glass, thanks to Logitech's Darkfield tracking technology, which offers greater precision on any surface. It's useful for navigating even the smallest cells of a spreadsheet and makes it easier for graphic designers and photo and video editors to finesse their projects.

Looking to eliminate cable clutter? The J.Burrows Wireless Keyboard and Mouse Combo is just the ticket. Studies have shown a clean and tidy desk has numerous benefits, including improving productivity. As well as being wire-free, this keyboard and mouse is a top tech gadget with handy shortcuts keys, so you can work more efficiently, and it has a scroll wheel on the mouse to quickly navigate web pages.

If you're after precision, then the HP Spectre 700 Mouse fits the bill with a 1200 dpi laser sensor which allows for accuracy and precision over a variety of surfaces, so you can get through spreadsheets, documents and websites more quickly – another bonus for productivity. It can also be paired with up to four devices and the battery lasts for up to 11 weeks.
Need to See It on Paper? You Need a Good Printer

Printers have really evolved in recent years and today offer business users excellent value combined with quality functionality. The Epson EcoTank A4 Colour Inkjet MFC Printer is a printer, copier and scanner that can output 10 pages per minute in black and white and five pages a minute in colour, making it one of the fastest MFC printers on the market. And you don't have to continually replace expensive print cartridges, the printer comes with enough ink to print up to 6,500 pages in colour or 3,600 in black and white.

Another multi-function option, the Canon PIXMA Endurance A4 Colour Inkjet MFC Printer, offers a print resolution of 4800 x 1200 dpi, so it can be used for printing documents and photos. Designed for high-volume printing, it also uses an ink bottle system instead of cartridges and has enough included ink to produce 7,000 colour pages or 6,000 in black and white.
A Hard Drive for a Proper Backup Strategy
It's so important to have a backup of all your customer information, data and documents, and even more important to back up and protect that data in the case of system failure or cyber breaches. The Australian Cyber Security Centre, estimates small to medium businesses lose $328 million to cybercrime annually.

If you can allocate some of your company's capex to improve storage and back-up capacity, it will pay you back with security and peace of mind. For small businesses, Seagate's 4TB Expansion Desktop Hard Drive connects to your computer via USB 3.0 for faster read and write speeds, and also comes with a three-year warranty. And there is no need for additional software – it is a simple plug and play solution.

If you are on the go often, a fast, portable solution is an SSD (solid state drive) like the SanDisk Extreme 1TB Portable USB-C SSD, which can transfer data at up to 550MB/s and is compatible with both Mac and Windows PCs.
Info! Information correct at time of publication. Global trade conditions may impact availability of some items. We apologise for any inconvenience.