11 Ways to Use Playdough for Learning
Learning
| By Alexis Teasdale
| March 2, 2020
A great at-home activity for kids, playdough promotes dexterity, imagination and patience, and engages the senses of young learners. Here are some fun ways to educate and create.
When you think of learning, playing with playdough may not immediately come to mind. But those squishy balls of goodness are actually one of children's crucial early learning experiences.

The simple act of forming balls with the dough and pushing them down flat can incite calm. Playdough is also a great starting point for physical development and can aid in pre-writing skills as kids develop their pincer grip by pinching the dough.

Playdough also helps build hand-eye coordination with the use of extra tools like rolling pins and shape makers. And by adding some themes, like building a bridge, you can add STEM concepts into the mix, stimulating kids' minds while they're also having playdough fun. On top of all that, it can keep kids happy and busy at home for hours.
1. Create Cute Creatures to Foster Kids' Imagination

It's one of the great, early ways to inspire little minds: whether your child creates real-life animals or crazy monsters from outer space, moulding creatures from playdough is a surefire way to ignite their imagination.

Add in craft components, like googly eyes and pipe cleaners, to help bring these beings to life. Encourage children to think creatively and imaginatively by inventing stories to match their playdough creatures.
2. Help Young Children Learn Their ABCs

The alphabet is one of the first things kids learn in early childhood but there are a lot of letters, so it's no small feat for little minds. Start with moulds, or help them create letters by rolling out sausage shapes, then twisting them into formation. This will help young children visualise and memorise each letter and build on their language and literacy skills.
3. Try Simple Counting Play

With playdough, the basics can be a blast. Making simple shapes for kids to measure and count is a great jumping-off point for numeracy. Being able to see and touch the shapes will help children learn maths skills. The next step could be to form the numbers using moulds and then build up to adding and subtracting them.
4. Creating Flags is a Fun Way to Talk About the World

This is a playdough learning activity that can go on for years simply because there are oodles of flags to recreate. It could be as basic as choosing a country's flag to make out of dough, or extend to teaching them to say 'hello' in that country's language and perhaps even introducing some of the nation's food at dinnertime.

As a jumping-off point, try a flag with a simple design that's easy for little hands and fingers to create: the Swedish flag is perfect. Its bright colours will appeal to their senses, and the cross gives them the chance to use a dough tool to create clean edges.
5. Outer-Space Designs Broaden Minds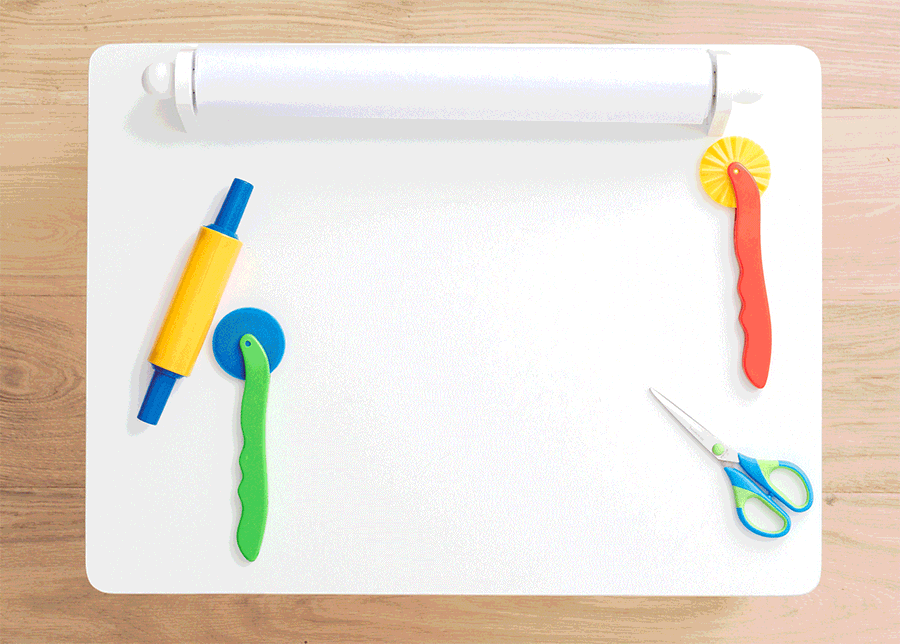 Space fascinates just about everyone so imagine how mind-blowing it is to kids! In addition to learning about shapes, this is a great opportunity to talk about planets, the solar system and galaxies. As well as crafting the planets, they can add textures to their dough and items like glitter and gems. It's a great tactile exercise for kids of all ages — and stimulates their senses and brain development.
6. Create a Clock to Help Children Learn to Tell Time

Tick tock: what a fun way to learn! Children often read digital clocks first, so this playdough activity allows them to make a dough version of the old-school, analog kind, with moving hands that they can interact and play with.
7. Whip Up Some Dough 'Food' to Encourage Cooking

So many kids love cooking because they get to use their hands – and lick spoons! While they won't be doing any licking with this playdough activity, it will allow children's imaginations to run wild. As they whip up their own delicacies, they are engaging in pretend & play, which is considered beneficial for cognitive and social development. You could pull out some plastic cups, plates and straws for them to make their own cafe. This can then turn into a learning opportunity about people skills, manners, hygiene, money and more.
8. Constructing Cars and Diggers Will Help Fine Motor Skills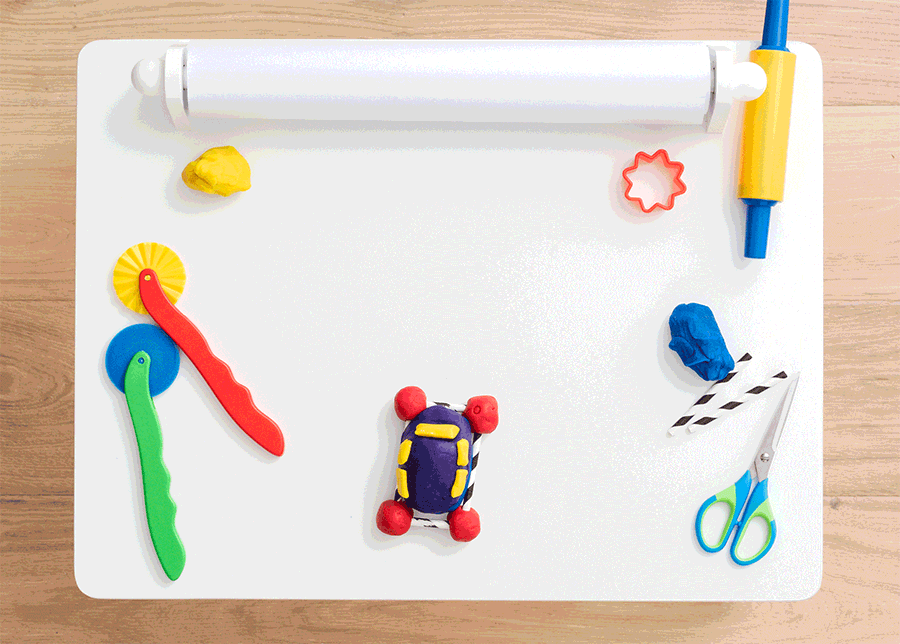 For all those wheel-loving little ones, this is a fun game masking a great learning activity. Encourage children to roll balls in their hands, then press them down to make wheels. Pushing a straw through the wheel to make a hole is an example of STEM at work. For bigger kids, you could even use straws, bottle caps and other recyclables to assist in making the frame.
9. Colour Mashing Will Excite and Surprise

Learning about primary and secondary colours is always fun for little minds. While it's normally demonstrated with paint, using coloured playdough is an easy (and less messy!) option. Simply give them a small ball of blue and yellow to knead together. They'll need to take small bits and keep mixing them in, watching the green form, slowly but surely. This is a cool way to introduce science and work on those fine motor skills, too.
10. Dough Games Can Assist With Dexterity

This is one of the more challenging playdough learning activities for busy minds: kids can roll out a nice, big slab of thick dough and, using tools or even tracing bottle lids and jars, form two separate sets of shapes. By making a set of five of each shape and rolling out some long sausages to form lines, they have created a game of 'noughts and crosses' – or should we say 'stars and circles'? – ready to play!
11. Bridge Building is a Shortcut to STEM

This is the perfect way to put the 'E' for engineering in STEM to the test! Challenge your kids to build a bridge out of dough and any other art supplies they can find. Straws, cardboard rolls and popsicle sticks could all help create a strong enough structure to hold up their dough arch.

This is a great way to explain to them that there is no right or wrong way to design and many pathways will lead them to a strong structure they can be proud of. Once their bridge is in place, they can decorate it with trees, roads, highways, maybe even water to flow under it and, of course, tiny little cars to travel over the top.
What You'll Need
Info! Information correct at time of publication. Global trade conditions may impact availability of some items. We apologise for any inconvenience.