Inspiring Eco Craft Kit Ideas for Kids
Education
| By Amy Vagne
| November 13, 2020
Try these clever eco craft kit ideas for kids, including best supplies and materials to create sustainable homemade DIY projects.
In 2020, all of us are on board to make greener choices. From ditching plastic shopping bags to toting around reusable water bottles and choosing to use recycled paper, we're all doing what we can at home and in our community to put the environment first. But what about the kids' art and craft supplies? How eco-friendly are the bits and pieces we're using to get creative? Here are some eco craft kit ideas to help you curate an art box that's jam-packed with green goodies.
Top Non-Toxic Paints

What's an art kit without paint? Painting is a way for kids to express themselves, have fun and get messy without getting in trouble. Look for non-toxic water-based paints which are considered better for little people and the environment. Better yet, choose paint pens, pads, sticks or blocks, or a palette of solid watercolour paints to prevent wastage and having to wash paint down the drain during the clean-up. Always consider the packaging of your paints, and where possible, opt for cardboard boxes and PET bottles that can be placed in your recycling bin.
What To Try
Recycled Paper for Craft Projects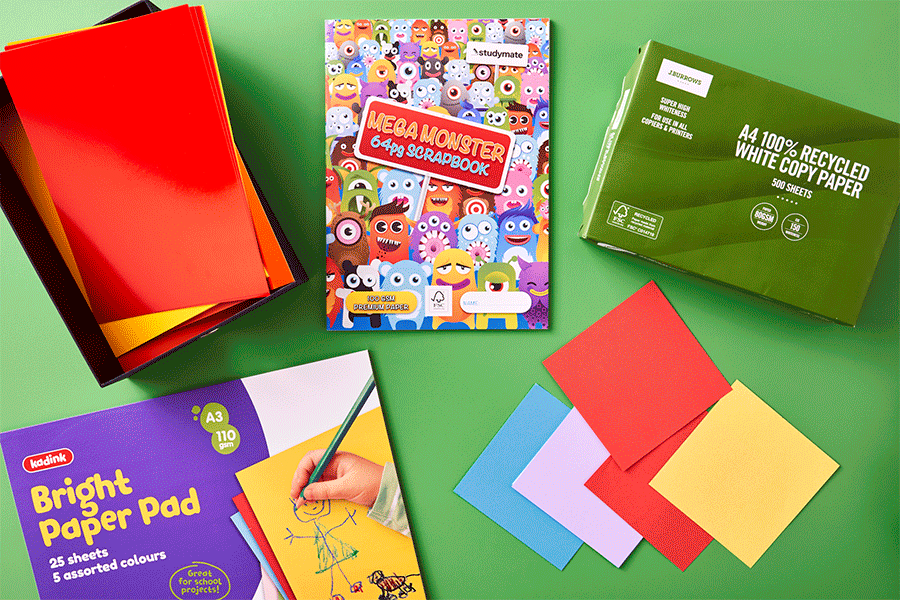 Recycled paper is readily available, so buy it in bulk for every art project, origami attempt and drawing session that occurs. Be on the lookout for loose paper, art pads and sketch books made by FSC certified suppliers – these are paper companies who are dedicated to protecting the world's forests and they source their trees responsibly. Grab a document box to set up a designated scrap paper bin at your place and fill it with any one-sided documents, newsletters or print-outs you no longer need. Teach your budding artistes to use this paper first for their drawings and collages before reaching for a fresh sheet of paper.

Hot Tip Help Officeworks make a positive difference by shopping for paper-based products, supporting their Restoring Australia initiative. As part of this programme, Officeworks will plant two trees for every one used to make paper and paper products. Amazing!
What To Try
Markers, Pencils & Crayons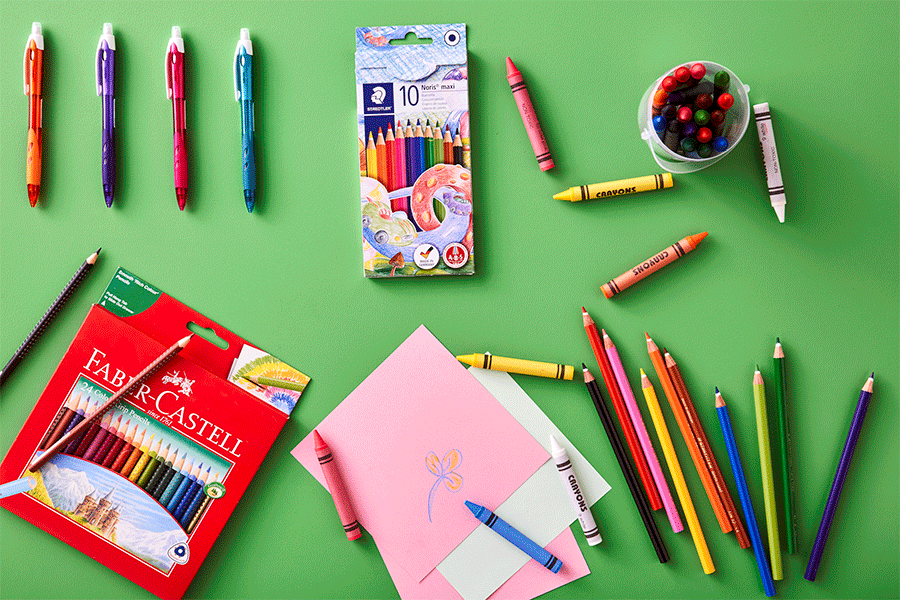 There are plenty of eco craft supplies available for colouring and drawing, like crayons, pencils and markers. Hunt for products that feature the keywords "non-toxic" and "washable" on their packaging – these are your best bet for safe formulas that are gentle on both the environment and little hands and faces. Invest in thick, high quality crayons and pencils as these will last longer and prevent you having to constantly replace them. Some Staedtler pencils and Educational Colours boast break-resistant technology and Pilot's range of BegreeN pens and pencils are made using at least 70% recycled materials, making them a more environmentally friendly option for drawing and writing.
What To Try
Glue & Sticky Tape

Just like paint, aim to choose washable non-toxic glues for your craft-loving kiddos. A glue stick is a great option because it's easy to use and lets kids control their application more carefully, reducing waste. Hunt out glue sticks with recyclable or more sustainable packaging like the UHU Renature Glue, which has a container made from 58% plant-based materials. For larger projects, opt for washable PVA or starch glue with an easy-to-control applicator or fine tip to prevent wastage. As for sticky tape, decorative paper and washi tapes can be wonderful eco options.
What To Try
Eco-Friendly Stamps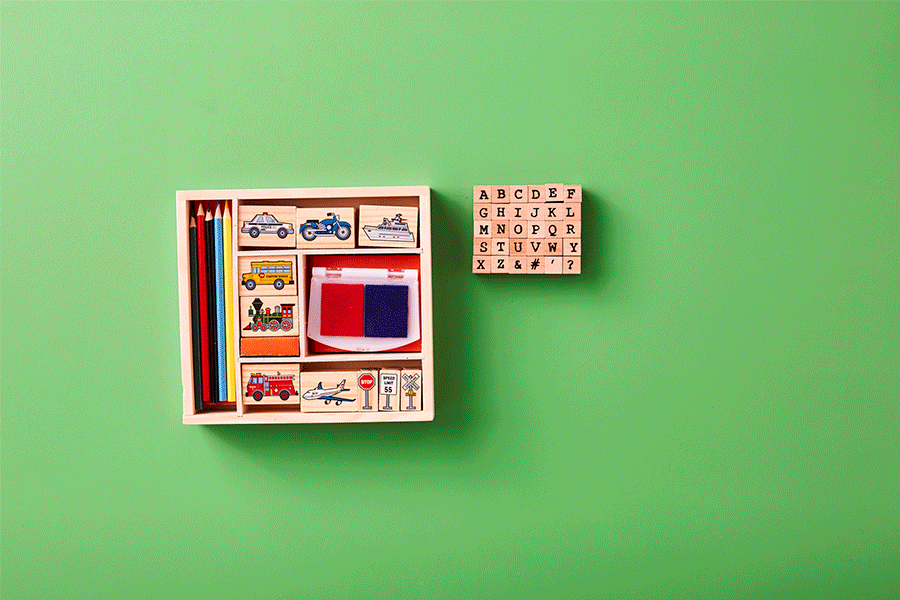 One of the best eco craft kit ideas? Stamps. They're reusable and don't need to be constantly replaced; wooden stamps in particular get an A+ for sustainability. Self-inking stamps are handy, or try dipping a standard rubber stamp in colourful paint or ink. Look for ink pads that are washable or water-based and non-toxic – just like non-toxic paint, these inks are free from harmful chemicals. You can use stamps for all sorts of fun crafty projects – decorate cards, invitations and envelopes or make your own wrapping paper or piece of art.
What To Try
Scissors & Other Craft Supplies and Tools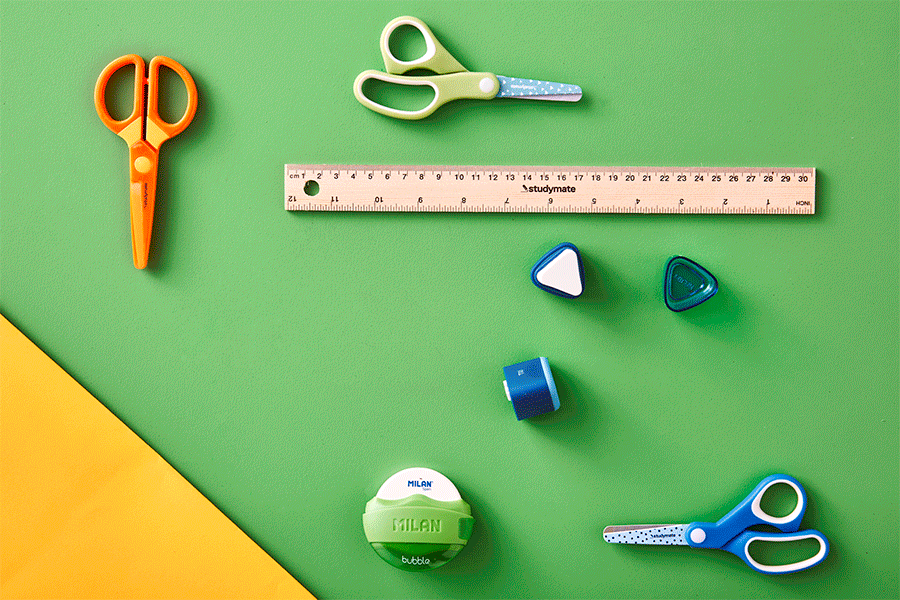 Scissors are an essential crafting tool – you can't cut and paste without them! Beginners should always use safety scissors that can cut through paper but won't snip hands or fingers. Shop for options with sustainable packaging, like cardboard sleeves and backing cards that can be recycled. A wooden ruler is ideal for drawing straight lines and measuring – choose one that's FSC certified for a sustainably sourced, more environmentally friendly option than plastic or metal. With pencil sharpeners and erasers, look for refillable or reusable options – we like the Milan range of 2in1 sharpeners and erasers because they're a dual use product, plus you can buy refill packs and replace the erasers.
What To Try
Information correct at time of publication. Global trade conditions may impact availability of some items. We apologise for any inconvenience.