DL Envelopes
A DL (Dimension Lengthwise) envelope measures 110 x 220mm. It fits A4 paper folded into thirds. These envelopes are popular for both professional and personal correspondence.
DLX Envelopes
A DLX envelope measures 120 x 235mm. Slightly larger than DL envelopes, it fits A4 paper folded twice and is suitable for thicker documents.
B4 Envelopes
A B4 envelope measures 250 x 353mm. Slightly larger than C4 envelopes, it fits unfolded A4 paper and is ideal for thicker documents.
C4 Envelopes
A C4 envelope measures 229 x 324mm. It fits unfolded A4 sheets. These are ideal for documents that need to remain straight or unfolded, such as certificates, legal paperwork and business correspondence.
C5 Envelopes
A C5 envelope measures 162 x 229mm. It fits A4 paper folded in half, or A5 paper unfolded.
C6 Envelopes
A C6 envelope measures 114 x 162mm. It fits A4 paper folded into quarters, A5 paper folded in half or A6 paper unfolded. C6 envelopes are commonly used for invitations, greeting cards and handwritten letters.
Flap Styles
There are two types of flaps: wallet and pocket.
Wallet (also known as banker) envelopes open on the long edge
Pocket envelopes open on the short edge
Envelope Face
Envelopes either have a plain face or a window face.
Window envelopes have a clear window on the front of the envelope and are commonly used for invoices, statements and other documents with pre-printed addresses.
Plain face envelopes allow you to write addresses for a more personalised look, or affix address labels for a more professional look.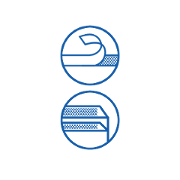 Seal Type
There are three types of closures for envelopes.
Gummed – moisten the flap, then press down to seal the envelope
Peel and seal – remove the strip on the flap, then press down to seal the envelope
Self seal – fold the flap onto the envelope and press down to seal it
Featured Items