Real Review: Jabra Elite Active 75t True Wireless Earbuds
Technology
| By Melissa Shedden
| October 28, 2020
We review the Jabra Elite Active 75t True Wireless Earbuds – Scandi-design headphones that offer crisp calls, noise-cancelling and wire-free convenience.
As a working parent during a pandemic, journalist and editor Melissa Shedden was in need of some new tech to help her manage multitasking. Her nine-month-old daughter, Olive, had yanked her dated wired headphones from her mum's ears many times – and Melissa's husband had pointed out that no-one uses corded headphones in 2020. She put the Jabra Elite Active 75t True Wireless Earbuds to the test in all aspects of her life – including making calls, doing her job and exercising – for this headphone review.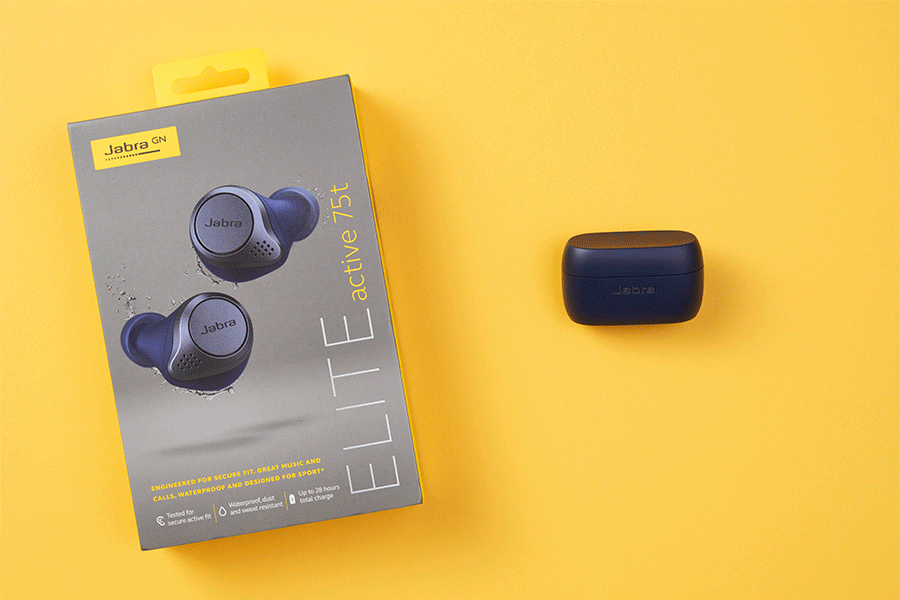 Snug Wireless Scandi-design
Sometimes, great looks distract from poor functionality – but not in this instance. I found the Jabra Elite Active 75t True Wireless Earbuds to be tiny tech, yet high spec, with a comfortable fit, sitting inside my ear without any odd protrusions. Even with a lot of shaking and jumping around, I couldn't dislodge them and Olive never got her pudgy little hands on them. They're available in several colours, too, including navy blue and sienna.
Bluetooth 5.0 Headphones
The "true wireless" part means they have no cords between the earbuds or the case, operating instead via Bluetooth once they're connected with your phone. Mine didn't find each other at first, but this was easily remedied by downloading the Jabra Sound+ app. While it's a fairly self-explanatory system, it was a two-step process. I thought the single, double, triple and long press clicks on the earbuds for commands and control might feel like I was jamming them into my brain, but I was pleasantly surprised. You can also connect to voice assistants like Siri and Alexa if you'd prefer.
Built-in Microphones
The sound fidelity is phenomenal. Jabra uses four-microphone call technology built into the earbuds, which means even when competing with external noise (anywhere near a baby) and windy environments, the person on the other end of my phone call can hear me – no mean feat when talking with my 70-year-old mum, who I usually have to repeat things for.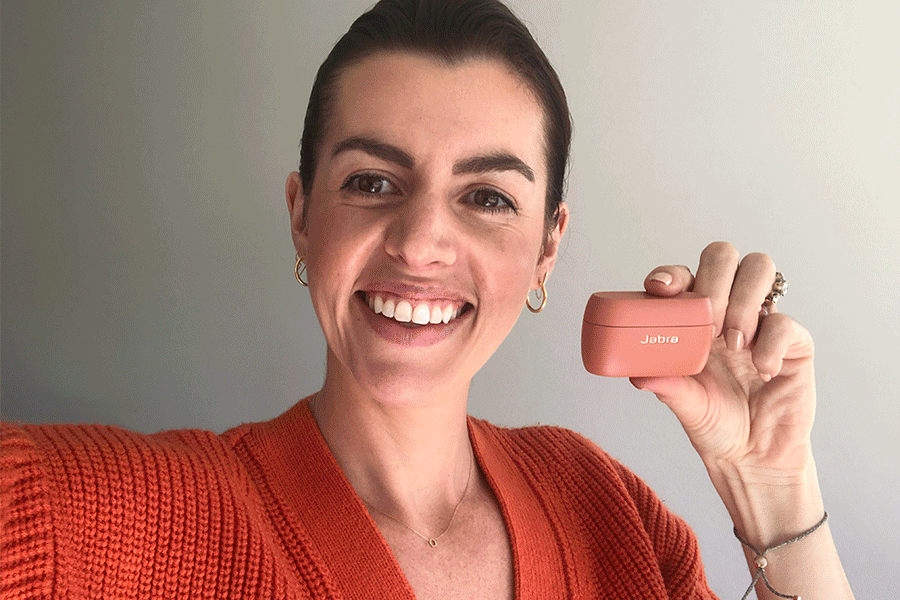 Noise-cancel the Real World
When you want to lose yourself, such as during the commute or running on a treadmill, you can choose the noise-isolating option, which doesn't let any outside sound leak in. For me, this was a lifesaver (or relationship saver) when I couldn't go another day hearing my husband make the same joke on his work Zoom meeting. But when you need to be aware of things around you, the HearThrough technology allows in ambient noise, which is a great safety feature for runners and podcast-listening parents out on a walk and in charge of little humans.
Impressive Wireless Battery Life
Once I gave the case and earbuds some juice, I got more than seven hours of use out of them, and another 20 plus hours from the charging case (they actually lasted longer than my labour and that felt like a marathon). I can't imagine the earbuds will die on me during a run, back-to-back Zoom meetings, a Netflix binge or anything else. Of course, they're not magic, so you still have to remember to charge them.

Rating 9/10. A nifty tech companion for the pandemic – and beyond.
What To Try
Need some IT help? Geeks2U offers tech support for households and businesses. Find out more here.
Information correct at time of publication. Global trade conditions may impact availability of some items. We apologise for any inconvenience.