DIY Mother's Day Gift Ideas That Will Make Her Day
Learn
| By Alexis Teasdale

| March 29, 2021
Simple and thoughtful; fun and easy. These special DIY Mother's Day gift ideas will show her just how much she means.
It's the yearly tradition that both mums and kids adore: Mother's Day craft. Help the kids take it one step further than a handmade card, by whipping up a sweet homemade gift. From pinch pots and paper bouquets to jumbo award rosettes, there's no doubt she will think each of these DIY Mother's Day gift ideas is a winner.
Pretty Clay Creations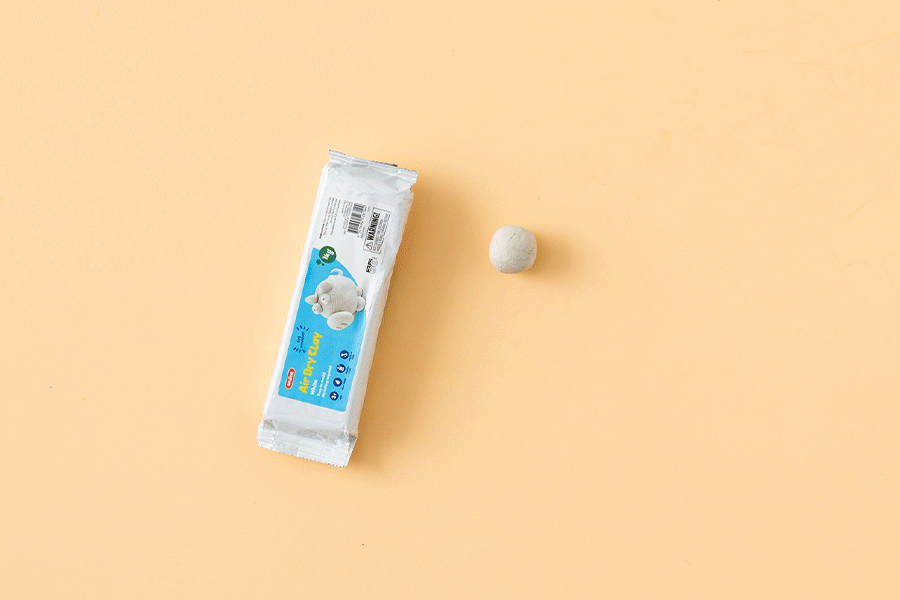 With all the charm of handmade pottery but so much easier for little hands, air-dry clay is a more sophisticated version of playdough. It dries easily and can be painted to add extra fun. This activity is a fantastic sensory project that inspires creativity and dexterity. A pencil holder, trinket tray or even round charms to thread onto a string necklace would make a sweet and thoughtful gift for mum that she can keep forever.
Step 1 Roll a lump of air-dry clay into a ball and let it drop down onto a hard surface, which will give it a slightly flat bottom that sits well on a table. (You don't need this step for a necklace charm.)
Step 2 For the pencil holder, push a pencil into the ball, making sure not to hit the bottom. Then add designs using the tip of the pencil to press into the still-soft surface. For necklace charms, you can do the same, just push the pencil all the way through, so it can be threaded onto string. For the trinket holder, push your thumb into the middle of the ball and pinch to the sides to make a bowl. You can make the lid in a similar fashion, just turn the bowl upside down and add clay petals for decoration.
Step 3 Allow the clay to dry, which, with a thick ball, can take a full day. Then paint to add some flair and fun.
What You'll Need
A Paper Bouquet
Forget flowers that wilt, and make mum a bunch she can keep for weeks to come. These paper lilies are easy to create with a little concentration, some fine motor skills and plenty of imagination.
Step 1 Cut a lily head shape out of coloured paper, which is like a wide leaf with a point at each end.
Step 2 Wrap the paper into a cone and glue the edges to seal, leaving a hole in the bottom wide enough to fit the pipe cleaner stem.
Step 3 Twist together two green pipe cleaners to make a sturdy stem for your lily.
Step 4 Cut a small piece of yellow pipe cleaner and coil it tightly around the end of your stem, making the stamen
Step 5 Push the stem through your lily, from the head end downwards, so that the stamen is peeping out from behind the petals. Repeat all steps to create a bunch, and tie together with twine.
What You'll Need
Number 1 Mum Award
Give your mum the kudos she deserves this Mother's Day, with a big award rosette! This jumbo version can be hung on the wall, pinned onto a board, stuck on the fridge or added to the front of a folded piece of cardboard for a giant Mother's Day card. With its fine paper folding and scissor work, it's the perfect quiet crafternoon project.
Step 1 Start by folding some coloured paper 'accordion'-style, back and forth, until the sheet is completely pleated.
Step 2 Cut the page in half so that you end up with two pieces of folded paper.
Step 3 Pinch each piece in half and glue the inside seams together using a low-temperature glue gun. As the paper wants to snap open, strong glue is needed; secure the fold until the glue takes hold. Use a pipe cleaner through the centre of each fan's fold and twist at the back to join the two half circles together, then add more glue along the seams to complete the rosette.
Step 4 Cut out the round 'face' of the rosette, as well as some paper 'ribbons' to hang off it and, in a contrasting colour, a trophy to glue onto the middle of the face. Attach the ribbon pieces to the back of the rosette and then the face and the trophy onto the front of the rosette.
Step 5 Use a coloured marker to write a message onto the trophy. How about 'Number 1 Mum' or 'Mum of The Year Award', or let them come up with their own special message.
What You'll Need
'You're So Sweet' Jar
If you have the sweetest mum ever, give her a big handmade jar of treats! This is a simple Mother's Day gift for kids to make: all they need is a jar, paint, some contact paper and a whole lotta lollies. Then it's up to them to get creative with their vessel.
Step 1 Cut a shape like a heart or star out of clear contact paper.
Step 2 Stick the shape directly onto the front of the jar, making sure all the edges are smoothed down flat.
Step 3 Paint the entire jar, painting up to and just over the edges of the contact.
Step 4 Once the paint is completely dry, remove the contact, leaving a clean shape and window into the jar.
Step 5 Make a little card to attach to some string, which ties around the neck of the jar, then fill the jar to the brim with mum's favourite sweets.
What You'll Need
Pipe Cleaner Jewelled Necklace
Diamonds and pearls are all well and good, but has your mum got a totally luxe, sparkly pipe cleaner necklace? If not yet, then this is the year! It takes hand-eye coordination and finger agility to bend, twist and manipulate the glittering stems into a creation she'll treasure.
Step 1 Take two pieces of sparkly pipe cleaner and twist together the ends, then form into one big circle as a base for the necklace.
Step 2 Cut more pipe cleaners into small pieces which will become the starbursts and decorative elements.
Step 3 Start attaching the decorations by pressing the ends over the circle and squeezing to hold in place.
Step 4 Add some little round 'gemstones' by twisting small coloured pieces into balls, leaving a little end free to press over the circle.
Step 5 Trim any pieces that look too long and tighten any loose 'decorations'.
What You'll Need
Information correct at time of publication. Global trade conditions may impact availability of some items. We apologise for any inconvenience.