5 Beautiful DIY Canvas Painting Ideas for Your Home
Exercise your creativity and brighten your home with these easy canvas painting ideas.
Ever wanted to paint your own canvas art, but didn't know how to begin? These simple yet impressive canvas painting ideas are a great place to start. They'll allow you to exercise your creativity while producing striking pieces to decorate your home. And it's not just about filling blank walls. Creative pursuits, like painting, can bring about a state of "flow", an idea from psychologist Mihaly Csikszentmihalyi that's all about losing yourself in the moment, resulting in a relaxed and positive state of mind. Which means there's even more reason to try one of these five DIY canvas painting ideas.
Abstract Pour Paintings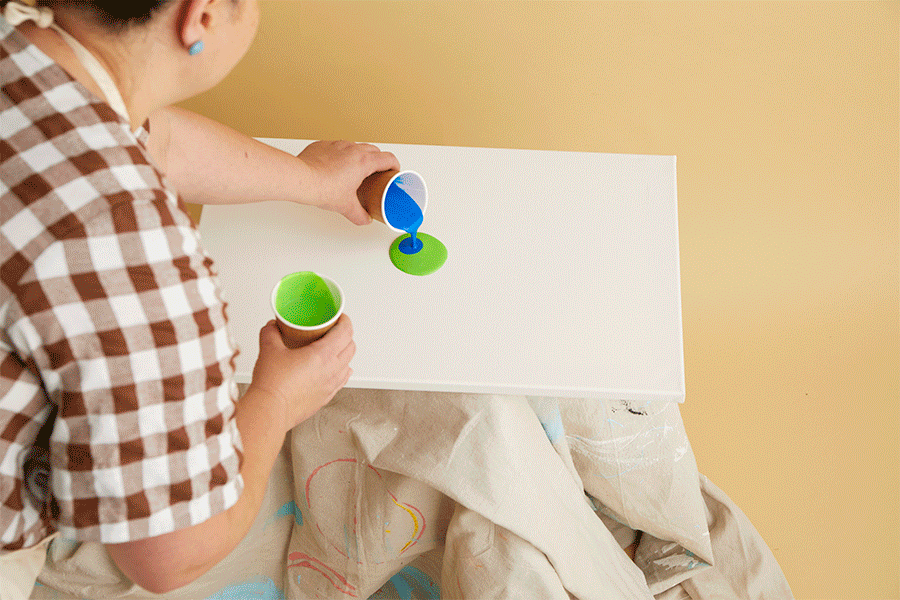 With their unstructured whorls and fluid swirls, these easy-to-create abstract pieces might seem like an undulating landscape captured from above, or perhaps an otherworldly underwater dream. You'll need paint that is pourable and has plenty of "movement" – too thick and it won't cover the canvas. Try free flow paint or acrylic mixed with medium, which will also give the painting a lovely shine once the artwork is dry. Use plastic cups to hold each colour and, before you start, ensure the paint mixture is runny. Opt for at least two to three colours to give the "swirl" effect. Lay your canvas flat on the ground or on a table with a drop sheet – this is one project that can get a touch messy!
Pour your first colour into the middle of the canvas. Then start to move the paint around by tipping and tilting the canvas. You can move it as much or as little as you like. Add each colour, continuing to tip and tilt, watching as the colours intertwine with one another. The patterns will start to form as you add each subsequent colour. You can also use a blow dryer or straw to blow the paint across the canvas. Set aside and allow to dry.
For a serene, harmonious approach, choose complementary colours, as we've done, or for a psychedelic twist go with vibrant clashing brights. Pour paintings look beautiful in a series too, so don't be afraid to create a few canvases in one hit.
Hot Tip: Prime your canvas first with white paint or gesso.
Sleek Shapes and Landscapes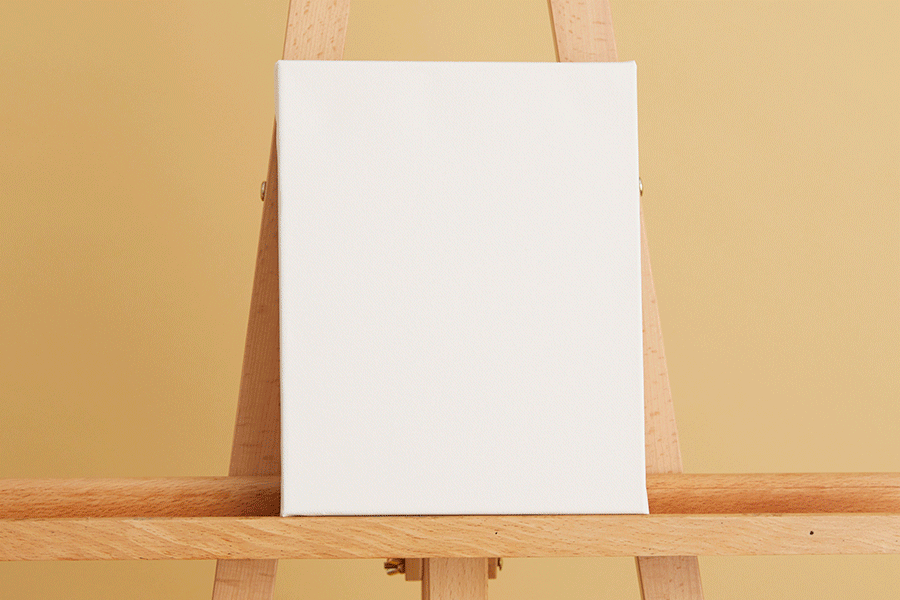 If there's one thing that Claude Monet, Tom Roberts and John Constable all knew, it's that a landscape captured on canvas can be evocative and beautiful. But don't be daunted by the expertise of the old masters. Instead, try a modern take. Flattening the landscape into 2D renders and streamlined shapes can result in a striking piece of contemporary art.
Start by priming your canvas with a coat of white paint or gesso. This helps to create a smooth texture allowing the brush to move more easily across the surface. Your colours will also pop more and not absorb into the canvas itself. Then draw your scene with a pencil. It could be your own design or copy something that you like. Finally, fill in with your choice of paint – acrylic or oil.
Remember, a stylised landscape doesn't prescribe that your sky is blue and the rolling hills are green. This execution is designed to be representative rather than literal, and a pink sky might say far more about joy, harmony or contentment than a blue one.
Nature-Inspired Mixed Media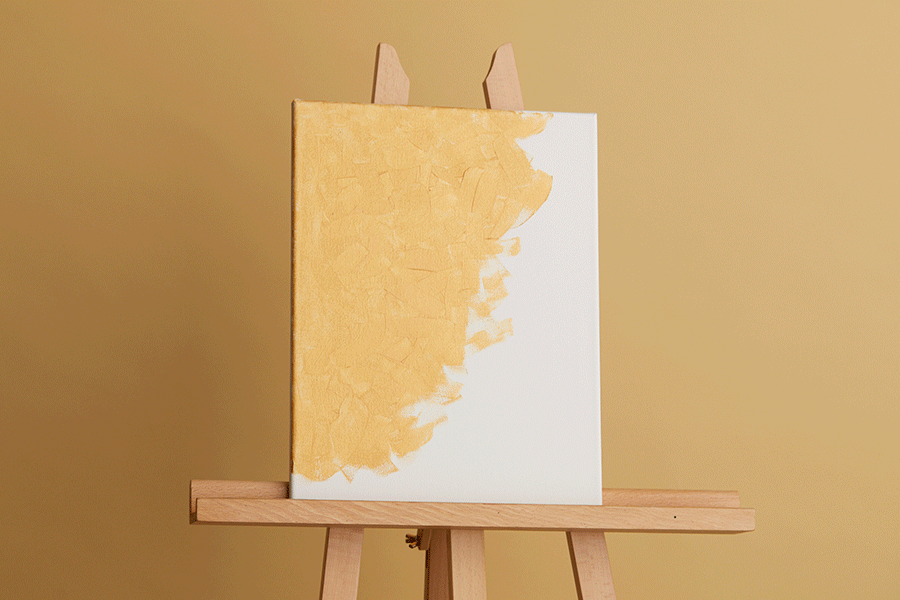 The canvas might be the base of your artwork, but you don't need to be constrained by its proportions. Instead, consider using your canvas as a foundation for other materials. A nature-inspired still life, using paper and found objects, has a surprisingly elegant feel.
Start by priming your canvas, then select your background colour. We used two coats of metallic gold. While you are waiting for the background to dry, use scrapbooking paper to create your 3D paper elements. We cut out leaf shapes, this can be done using scissors or a craft knife. Bend the middle part of each leaf using your hands, a bamboo stick or scoring tool. This will help the leaf to appear 3D. Depending on your skill level, you can also cut out gumnuts, making them is similar to rolling a paper rose. Use a hot glue gun to attach all your pieces onto the canvas one at a time. Be sure to only glue a section of your leaf to the canvas to ensure the 3D effect. When you are satisfied with your arrangement, use a spray sealant to spray the paper to ensure longevity.
Stamp Painting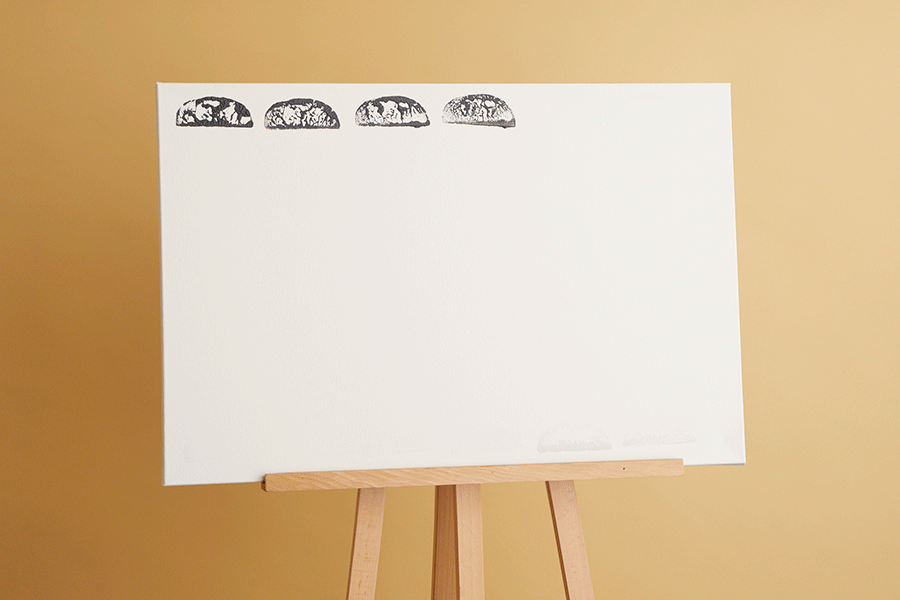 Ditch the paintbrush and try block printing your canvas. Everyday objects, like a cut potato, quickly become clever stamps when pressed with paint and applied to a canvas. Start with a large canvas – the oversized scale here is what makes this style so effective. Next, prep your canvas, painting the background colour; do this even if you choose a neutral or white background, it will help the end result look more polished. Then push your potato 'stamp' into a contrast colour paint and then onto the canvas. When the same shape is repeated time and time again, the overall effect is a pleasing and harmonious symmetry.
Geometric Tape Painting
If you've always admired Piet Mondrian, then this creative canvas art style is for you. It's a cinch to create too: prime your canvas and then use masking tape, criss-crossing over the canvas, to mark out the shapes. While repetitive shapes are great for the potato-printing style above, in this instance a mix of large and small shapes has the most impact. Paint each available shape in any colour order you like. For an elegant take, go monochrome or tonal, but for a bright addition to a kids bedroom, these bold, clashing hues are just the ticket. Allow to dry and repeat with at least two more coats. Once your paint is dry, carefully peel away the tape.
What To Try
Information correct at time of publication. Global trade conditions may impact availability of some items. We apologise for any inconvenience.