Ballpoint
Ballpoint pens are some of the most used writing companions, because of their simple, easy to use functionality. These versatile pens have fast-drying capabilities, so that you can avoid smudging on your page as you jot away. You can buy them in single or multipacks, so that you're always ready to write.
Gel
Gel Pens provide a unique writing experience thanks to their water-based gel, that provides clear and consistent printing on the page. Some gel pens are even erasable, so you can fix up mistakes as you go. They show up clearly on dark surfaces, and provide a smooth, seamless printing.
Fineliner
Fineliner pens are typically used in artistic fields but can be great for handwriting and calligraphy as well. Thanks to the fine tip, a fineliner pen can be used to focus on precise detail, making them ideal for sketching and drawing.
Rollerball
Rollerball pens are like ballpoint pens in many ways, as they both use a ball-bearing tip for writing purposes. The exception being a rollerball pen uses a water-based or gel ink whereas a ballpoint pen uses oil-based ink. Rollerballs are notable for the smooth, vivid, and more dynamic writing experience they provide. However, because of the water or gel-based style providing a more generous flow of ink, it means the ink does not dry immediately on the page in most instances, making these pens more prone to smudging.
Fountain
With origins that date back to the 10th century, and their prominence coming to fruition in the 18th, the fountain pen is a writing companion you can rely on. The pen's reservoir contains a water-based ink that feeds directly to the nib, producing vivid lines without much pressure exertion. It's elegant writing, in an almost effortless manner.
Premium and Luxury Pens
Depending on the pen you choose from the Officeworks Premium or Luxury range, you could be making a statement of style, opting for supreme form and function or investing in a quality writing instrument. You'll find quality finishes in stainless steel, brushed metals, gold or metallic trims across brands such as Parker, Lamy, Waterman, Sheaffer, Cross and Faber-Castell.
View our range of premium pens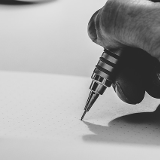 Nib Size
Nib size is an important thing you should consider when buying your next pen. It depends on your handwriting, and simply what you're more comfortable with. Smaller nibs around 0.4 mm in size allow more control over your lines of the page, meaning that they're ideal for people with messier handwriting. Larger nibs around the sizes of 0.5, 0.7, and 1.0 mm allow you to produce poignant, bold lines that pop off the page. However, don't limit yourself to one! Experiment with the different sizes and find what suits you best.
Colour
Some people are staunch black ink users, whilst some people can't see past blue ink. Officeworks stocks a wide range of multifunction pens that can feature 3 colours or even 5 colours.
Refillable
There are many reasons to opt for a refillable pen, including the reduced cost of not having to buy a brand new pen each time, it is more sustainable for the environment and you can pick a selection of different colours.
Features
A pen and a stylus? You'll find such versatile pens online at Officeworks. For supreme versatility, check out the range of erasable pens – perfect for removing those imperfections. Enjoy the benefits of pens and pencils in 1 with multifunction pens that feature both pens and mechanical pencils.
Featured Items