Ballpoint
A ballpoint pen is the most commonly used type of pen. The ballpoint pen has stood the test of time thanks to its versatility, affordability and efficiency.
Pros: Dries fast, therefore avoids smearing; cheap, meaning you can buy a multi-pack and not be concerned too much if one goes missing; easy to use – from the neatest to the messiest of hand-writing.
Gel
Gel pens utilise a water-based gel, producing very clear and consistent writing. Some gel pens are erasable, allowing you to easily fix mistakes in your writing.
Pros: Shows up clearly on dark surfaces; produces a very smooth writing experience
Fineliner
Typically most used for artistic purposes – sketches, drawing etc. Thanks to its fine tip, it can be used to produce great detail and can even be used for everyday writing.
Pros: Fine, delicate tip is capable of complex, sharp detail for things like graphic drawings and sketches.
Rollerball
Similar to ballpoint pens in many ways, as they both use a ballpoint tip for writing purposes – the exception being a rollerball pen utilises a water-based or gel ink. Rollerballs are notable for the smooth writing experience they provide. As it uses a gel or water-based ink, the ink does not dry immediately on the page so requires a second or two to dry, meaning smudging is a distinct possibility.
Pros: Smooth writing experience, vivid lines, ideal for everyday use.
Fountain
Fountain pens date back to the 10th century, with the device finding prominence in the 18th century. The pen draws a water-based ink from a reservoir contained within the pen and feeds in to the nib to administer ink to the paper.
Pros:As the ink is delivered purely by gravity, it writes smoother as little to no pressure is required to write; highly reusable with the purchase of a refill; For the calligraphists out there, fountain pens can produce beautiful handwriting.
Premium
Depending on the pen you choose from the Officeworks Premium range, you could be making a statement of style, opting for supreme form and function or merely investing in quality. You'll find quality finishes in stainless steel, top brands like Parker and Sheaffer.
Pros: Stylish finishes; statement pieces; quality materials used meaning these pens will have a much longer shelf life than your average pen.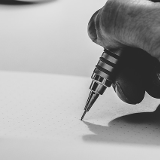 Nib Size
Nib size is a very personal decision when selecting a pen. Depending on what you enjoy, the neatness of your handwriting and more, nib size is an important buying decision.
For those with messy handwriting, a smaller nib such as 0.4mm may be a wise choice. If you like to make writing clear and bold, a thicker nib should be considered, with common widths available like 0.5mm, 0.7mm and 1.0mm.
Colour
Some people are staunch black ink users, whilst some people can't see past blue ink. Officeworks stocks a wide range of multifunction pens that can feature 3 colours or even 5 colours.
Refillable
There are many reasons to opt for a refillable pen, including the reduced cost of not having to buy a brand new pen each time, it is more sustainable for the environment and you can pick a selection of different colours.
Features
A pen and a stylus? You'll find such versatile pens online at Officeworks. For supreme versatility, check out the range of erasable pens – perfect for removing those imperfections. Enjoy the benefits of pens and pencils in 1 with multifunction pens that feature both pens and mechanical pencils.
Featured Items