Students
For students who require hard drives to transport files between home and university, portability will be key. Automatic backup will ensure that no crucial lecture notes, assignments or essay documents are lost. An ideal hard drive for students would be one that has the capability to store plenty of documents, and that also features a media library.
View Range
Home Workspace
If you need a hard drive for use at home, be sure to consider your family's media needs and look for a device with enough storage that can accommodate this. Portability may not be a necessary feature if you intend to use your hard drive predominantly to store your files at home. However, automatic backup will be handy for those who are less tech-savvy.
View Range
Office
Plenty of storage space and accessibility are two crucial features for hard drives being used in the office. This will allow several users to connect at once through a network without wired connections. Automatic backup is also a must for important work documents.
View Range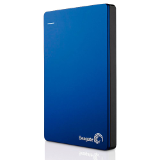 Portable Hard Drives
This type of hard drive is highly popular, and for good reason – its portable nature means it can serve several purposes. Size is no longer a guarantee of power, as small hard drives can now offer impressive storage capacity. Portable hard drives are perfect for storing a media library or functioning as a backup to a fixed hard drive.
Desktop Hard Drives
By sacrificing portability, desktop hard drives can offer more storage and other useful features. Many desktop models feature 4TB storage space. Generally these hard drives require a power source, but are a great option for homes with one computer or for professionals.
Personal Cloud Storage & SOHO/SMB NAS
Network attached storage (NAS) devices are ideal for offices and workspaces that need to connect multiple devices to storage. They can offer huge storage capacities, with some units featuring up to 16TB - ideal for multiple users who require large storage collectively.

Automatic Backup
Let your hard drive do the legwork for you. With one click, automatic backup will ensure that your files are backed up each time you connect your hard drive, giving you greater peace of mind.

Wireless
Many portable hard drives now feature wireless capabilities, removing the need for connection to back up. With a wireless device you can back up, stream and share content to multiple devices, up to 8 at a time.

Speed
Speed can refer to two things: the speed at which the hard drive reads data (with higher speeds required for more heavy duty tasks such as video editing), or the speed at which data is transferred. Consider how often you will be transferring files to your hard drive and how large these files tend to be, and choose your device accordingly.
USB 3.0
USB 3.0 is a connection that allows transfer speeds of up to 5GB per second. This transfer rate is 10x faster than older connections, and is an ideal feature for people who will be using their hard drives on the go.

Compatibility
It's important to check the compatibility of a hard drive before you purchase, as not all hard drives are compatible with both Mac and PC. However, some hard drives are additionally compatible with other devices such as tablets and smartphones. Formatting may be required to use a hard drive with both Mac and PC computers, although many models now offer immediate compatibility without formatting required.
Power
Is the portability of your hard drive a priority, or is one that requires an AC connection sufficient for your needs? Consider your hard drive's power source and whether or not you require an easily transportable model.
---
Featured Items