Label Makers Buying Guide
Label makers are an essential part of the classroom, office and even at home. A labelling machine is the perfect device for organising so find the ideal labeller for you with the Officeworks Label Makers Buying Guide.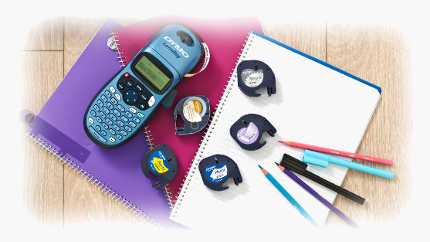 Personal/Handheld

The most popular label printers, thanks to a combination of convenience and performance. Officeworks stocks a fantastic range of Brother and Dymo Label Printers.

View Range

Desktop

Whilst not as mobile as handheld label machines, desktop label makers are still highly compact. Generally they work in conjunction with a PC or Mac and use labelling software. They usually print labels of four-inch in size.

View Range
Label Maker Types
At Officeworks we offer a wide range of Label Makers including handheld and desktop label machines from the best brands including Dymo and Brother.
Direct Thermal Label Makers

Uses heat sensitive paper (thermal fax paper) and burns the characters into the tape. Paper is very sensitive so the machine doesn't have to reach high temperatures to function. Letters, numbers and punctuation are varied. Permits customisation including several fonts, frames and more.

Downside; labels tend to fade over 6 to 12 months, even shorter if exposed to chemicals, harsh sunlight or weather.

Thermal Transfer Label Makers

Operate same as Direct Thermal but uses wax, resin or a combination from a ribbon to be transferred to the tape. The benefit of this are sturdier, lasting labels that are resistant to smudges and scratches.
Features to Consider
QWERTY Keyboard

Makes bashing out label after label a breeze thanks to the familiar keyboard layout.

Print Speed

How many labels can be printed per minute? Might not be important for occasional home use but for regular, professional use, you won't want to wait around if printing labels in sizeable quantities.

Connection

USB connections for desktop labellers are very common, but there is a growing range of wireless label machines.

Power Source

For handheld label makers, power source should be a consideration, as you may prefer a rechargeable battery to one that uses AAA or AA that will need regularly replaced.

Label Thickness

Whilst you may be content with one basic size, many label machines can print labels of varying thickness for extra durability.

Styles/Symbols/Fonts

Like to get creative? Opt for a labeller that offers multiple styles, an array of symbols and the functionality to change font.

Display

What type of display the labeller features is mainly a consideration for handheld labellers, as with desktop machines, you'll be designing and setting up labels via a computer. LCD or Graphic displays help to get a strong visual idea as to how your label will look once printed.

Print Resolution

Like most decisions with Labellers, what print resolution you opt for will boil down to what you intend to use it for. For a commercial environment like a mailroom of workplace, a higher resolution may be required to have a professional finish. For a school child, the standard resolution on a handheld label maker will more than suffice. Check the product information for the dpi number (dots per inch).

Number of Lines

If you intend to use your label machine to print address labels, you'll require a labeller that can print multiple lines. Be sure to check the product description and specifications to ensure you get a label maker that fits your criteria.
Featured Items