Canvas Prints & Canvas Art
Turn your most unforgettable photographs into beautiful canvas prints
---
Officeworks canvas prints are perfect for turning your most memorable family, holiday or special occasion photos into works of art. Find the perfect sized print to suit any room in your home or office with over 35 different sized canvas prints to choose from.
Start project now
Prefer to order instore? Visit our store locator
Simply upload your favourite photos (or select previously uploaded photos from your Officeworks Photos account), select the perfect size prints, then sit back and let us transform them into works of art delivered straight to your door or to an Officeworks store for free Click & Collect.
Choose from our extensive range of over 35 different sized canvas prints
Printed on high quality poly-cotton satin canvas (350gsm)
Machine stretched over a solid 3.8cm wooden frame
Wrap your photo around the edges for a stunning 3D effect
Canvases ordered online or via the in-store kiosk come ready to hang
Canvases ordered online can be cleaned with a soft brush or wiped with a damp cloth. Please do not use cleaning fluids.
Supports a wide range of files including BMP, GIF, JPEG, PNG and TIFF
Photos can be up 20MB in size
Select photos directly from your PC, digital camera, smartphone or via

Square Canvas Prints are a simple way of adding some colour and style to your living room décor.

Rectangle Canvas Prints are perfect for turning life's memorable photos into elegant wall art.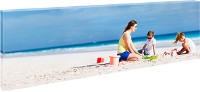 Panoramic Canvas Prints turn your favourite majestic holiday photos into vibrant works of art.
All online orders for photo products are made offsite, please allow 7 – 10 working days.
Canvas Prices
Square Canvas Prints
| Canvas size | Price |
| --- | --- |
| 12 x 12" (30.5 x 30.5cm) | $39.00 |
| 16 x 16" (40.6 x 40.6cm) | $54.00 |
| 20 x 20" (50.8 x 50.8cm) | $66.00 |
| 24 x 24" (61 x 61cm) | $96.00 |
| 30 x 30" (76.2 x 76.2cm) | $115.00 |
| 36 x 36" (91.4 x 91.4cm) | $149.00 |
| 40 x 40" (101.6 x 101.6cm) | $169.00 |
Panoramic Canvas Prints
| Canvas size | Price |
| --- | --- |
| 12 x 24" (30.5 x 61cm) | $64.00 |
| 12 x 30" (30.5 x 76.2cm) | $70.00 |
| 12 x 36" (30.5 x 91.4cm) | $88.00 |
| 12 x 40" (30.5 x 101.6cm) | $96.00 |
| 12 x 48" (30.5 x 121.9cm) | $115.00 |
| 16 x 36" (40.6 x 91.4cm) | $95.00 |
| 16 x 40" (40.6 x 101.6cm) | $105.00 |
| 16 x 48" (40.6 x 121.9cm) | $119.00 |
| 20 x 40" (50.8 x 101.6cm) | $110.00 |
| 20 x 48" (50.8 x 121.9cm) | $125.00 |
| 24 x 48" (61 x 121.9cm) | $159.00 |
Rectangle Canvas Prints
| Canvas size | Price |
| --- | --- |
| 12 x 16" (30.5 x 40.6cm) | $48.00 |
| 12 x 20" (30.5 x 50.8cm) | $55.00 |
| 16 x 20" (40.6 x 50.8cm) | $59.00 |
| 16 x 24" (40.6 x 61cm) | $69.00 |
| 16 x 30" (40.6 x 76.2cm) | $79.00 |
| 20 x 24" (50.8 x 61cm) | $75.00 |
| 20 x 30" (50.8 x 76.2cm) | $89.00 |
| 20 x 36" (50.8 x 91.4cm) | $99.00 |
| 24 x 30" (61 x 76.2cm) | $110.00 |
| 24 x 36" (61 x 91.4cm) | $129.00 |
| 24 x 40" (61 x 101.6cm) | $139.00 |
| 30 x 36" (76.2 x 91.4cm) | $135.00 |
| 30 x 40" (76.2 x 101.6cm) | $145.00 |
| 30 x 48" (76.2 x 121.9cm) | $169.00 |
| 36 x 40" (91.4 x 101.6cm) | $155.00 |
| 36 x 48" (91.4 x 121.9cm) | $179.00 |
| 40 x 48" (101.6 x 121.9cm) | $189.00 |