---
Laser Printer
Laser printers are reliable and highly efficient for both the home and the office and offer a fast way to print high quality documents to suit any purpose.
Heavy or frequent printing
High quality text
Fast print speeds
Inkjet Printer
Inkjet printers are the most commonly used type of printers with the ability to print on a range of media including paper, labels and CD/DVD media.
Everyday printing
High quality images
Multiple media print options
Inkjet Printers
Inkjet printers are generally designed for printing colour images on a variety of print media. Inkjet printers come in a range of options from basic home workspace printers to the more specialised professional photo printers.
Inkjet Multifunction Printers
Inkjet multifunction printers give you access to copying, scanning and faxing features. Multifunction printers are ideal for the home workspace and small to medium businesses.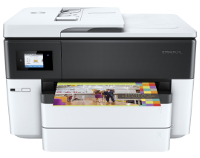 Wide Format Printers
Wide format printers are suited to printing larger scale jobs such as project plans and posters. They can print on a variety of page sizes from A3 and up and are suitable for the home workspace and small to medium businesses.
View our A3 Printer range View Our Wide Format Printer range
Mobile/Portable Printers
Mobile or portable printers are a convenient option for anyone who needs to print documents while on the go. These devices offer a variety of options including wireless, colour, and mobile printing and scanning.
3D Printers
A 3D printer creates physical objects based on a design in a digital file. Instead of ink, it uses filament, which is melted down to create very fine layers. It puts down layer upon layer of this material, then fuses them together to bring the design to life.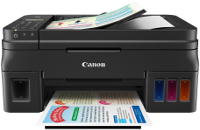 Continuous Ink Printers
Continuous ink printers use external ink tanks instead of traditional ink cartridges. You can print thousands of pages before needing to replace ink. No more replacing cartridges regularly, which is great for the environment – and you enjoy substantial savings with low-cost refillable ink bottles.

Print Speed
Print speed can be measured by Impressions per Minute (IPM). IPM values are determined by the International Organisation for Standards (ISO). Higher print speeds are important if printing large documents.

Print Resolution
Print resolution is measured in Dots per Inch (DPI). DPI measures how many dots of ink the printer can print over an inch. The more dots, the higher the quality of the print. Consider DPI if printing images.
Sheet Capacity
Sheet capacity is the number of sheets of paper that can be stored in the printer paper tray(s), ready for use. Consider sheet capacity if you intend to print large documents or print often.
WiFi Direct
WiFi Direct devices communicate with each other directly, without the need for a router and is easy to set up. Consider a printer with WiFi Direct to make setting up your printer easier.

NFC Connectivity
Near Field Communication (NFC) allows you to wirelessly transmit data from your printer to your phone or tablet by touching the devices together. NFC provides a quick and secure way to print wirelessly.
Mobile Printing
Mobile printing technologies like AirPrint™ allow you to print from your wireless device. Google Cloud print allows you to print from anywhere via an internet-connected device.

Auto 2-sided Printing
Auto 2-sided printing allows you to print on both sides of a page without having to turn the paper over yourself. This feature allows you to print sustainably by using half as much paper.

Automatic Document Feeder
An Auto Document Feeder (ADF) enables you to scan and copy multiple pages automatically. The ADF feeds pages through the scanner automatically, saving time and effort when scanning or copying documents.
Consumables & Refills
Both inkjet and laser printers require periodic refills of ink and toner cartridges respectively. Some laser printers also use a drum cartridge that needs to be replaced less frequently than toner cartridges.
---
Featured Items