Commander Business Phones Buying Guide
Business phone systems have evolved from clunky, expensive landlines to internet-based connections that grow along with your business. Commander phones are a smart choice for small businesses with 1-20+ phones as they use your existing internet connection, so there's no monthly line rental and no costly outlay for equipment. Our Commander Business Phones Buying Guide will help you choose the right phones for your needs.
---
Why choose Commander Business Phones?
Ideal for small businesses, Commander Business Phones are designed to be flexible, so you can easily add, move or change phone extensions and locations as required. Calls are made using VOIP (Voice Over Internet Protocol) over your existing internet connection, which cuts down significantly on costs.
Plug and ring – simply plug your phones into your internet connection to start making and receiving calls
No lock-in contract – simply pay a monthly subscription for each handset, which covers all standard local and national calls. Generous credits are available if you choose 24-month subscription.
Uses your existing internet connection - or a new one can be supplied (fees may apply)
Build your own business phone system - choose any combination of handsets to suit your needs
Portable - your phone system can be easily relocated and you can keep using your numbers
NBN ready – once you get NBN at your premises, you can transition over without needing to upgrade your phone equipment
Cloud-based management – customise, manage and update user features anytime from anywhere
Exclusive to Officeworks – 50% off standard calls to Australian mobiles and free handset delivery within Australia
Choosing the right Commander Business Phone
Commander Business Phones are available via subscriptions. Officeworks offers three different Commander phone subscriptions: Office, Conference and Cordless. Each subscription features a handset that's fit for purpose.
Cordless
Stay connected while you move freely around your workplace. Talk for up to 11 hours or leave it on standby for up to 100 hours. Features a 1.8" colour display and exceptional high definition voice quality. Ideal for retail and other businesses where staff are mobile and having a portable device is advantageous.
Find out more about the Commander Cordless Phone
Office
Features a desktop handset with an LED 4.3" colour screen and 10 programmable line keys so you can personalise it as required. This versatile handset is suitable for reception desks, office desks, foyers or meeting rooms. Ideal for a business with several employees – you get a multi-line phone solution minus the expense of a switchboard (PBX) system.
Find out more about the Commander Office Phone
Conference
Features a 3 metre voice pickup, 3 built-in microphones and background noise suppression. Includes conference service for up to 1000 people. Purpose-built for meeting rooms and offices where hands-free conference calls are made.
Find out more about the Commander Conference Phone
---
How to buy Commander Business Phones
To set your business up with Commander Business Phones:
Step 1: Select and purchase a subscription
Once you've decided which phone subscription best suits your business needs, purchase it at selected Officeworks stores. Your handset will be delivered once your service has been activated.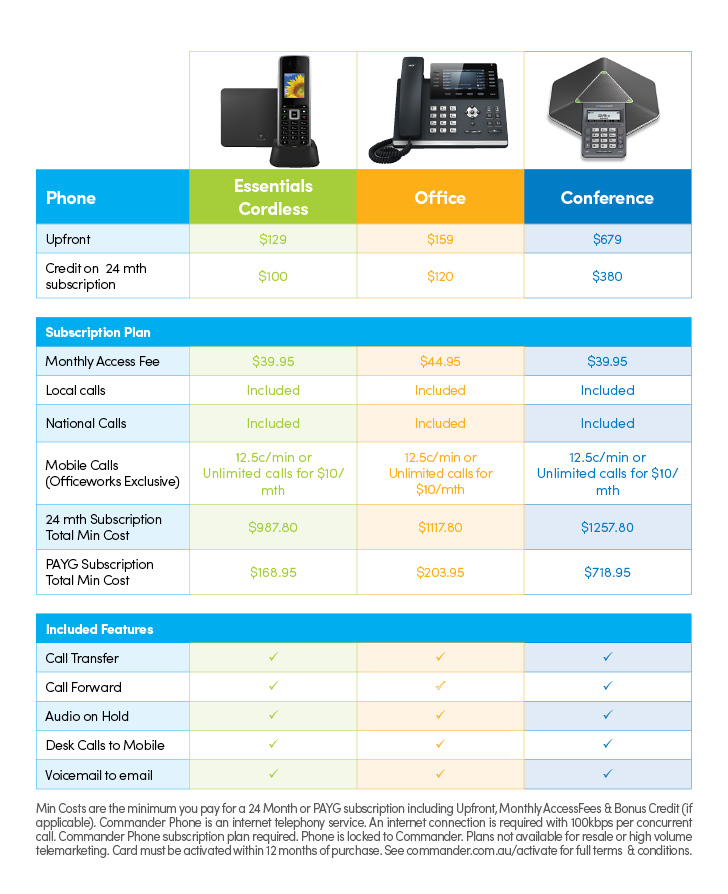 Step 2: Activate your subscription
Visit the Commander website or phone 136 950 082 to activate your subscription. You'll then receive free delivery of your handsets, which are pre-configured and ready to use.
Step 3: Set up your service
A Commander technician will contact you to discuss your connection requirements, including:
Assessing your internet bandwidth (minimum internet requirements apply)
Installation options (fees may apply)
An option to commit to a 24-month contract and receive a credit
---
Commander Business Phone Features
Simultaneous ring

Make any phone ring at the same time as your desk phone, so you can answer desk calls on your mobile phone.

Call hold and call transfer

Place calls on hold and transfer calls to another extension or third party.

Audio on hold

Play music or advertise your latest offers while customers are on hold.

Voicemail to email

Receive your voice messages via email or webmail.

Online management

Use a portal to manage your phone system from any internet-enabled device.

Scales to multiple sites

Add additional phones as needed, even at other office locations.
What is VOIP?
VOIP phones use the internet to deliver calls rather than the traditional copper wires that landlines rely on.
With VOIP, voice signals are converted into packets of data and transmitted at exceptionally high speeds over an internet connection. Once they reach their destination, these data packets are then reassembled and converted back into sound waves. This process happens instantaneously in both directions, enabling a normal phone conversation.
You can call anyone, anywhere using VOIP. The recipient doesn't need special equipment to receive the call – they can be using a traditional landline, mobile phone or VOIP phone, and won't know what service you're using to call them. Similarly, you'll receive calls no matter what system your caller is using.
VOIP offers several advantages such as lower calling costs, increased portability and ease of use. However, one drawback of a VOIP phone system is its dependence on the internet. A poor internet connection may result in poor sound quality - if you have a good internet service, sound quality will not be affected.