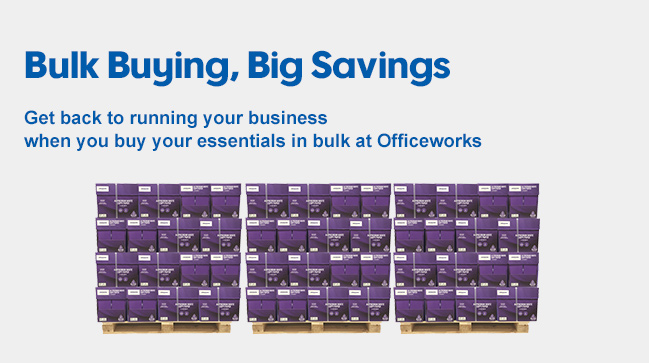 Why buy in bulk?
From office essentials such as paper and ink to stocking up on kitchen supplies with coffee and tea, buying in bulk reduces time reordering plus receive great savings you can put back into growing your business.
Same day metro delivery for orders before 11.30am
Same Day Delivery is only available for orders to selected areas of Sydney, Melbourne (including Geelong and Mornington Peninsula), Brisbane, Perth, Adelaide and Hobart.
Price Beat Guarantee
Find a lower priced identical stocked item and we'll beat it by 5%. Excludes cashback and coupon offers, commercial quantities and pricing & stock liquidations.
No membership fees
We never charge membership fees which means further savings for your business
Search or shop the full range
As you browse the Officeworks site, look for the 'Bulk Buy Price' icon.
Refine your search by Bulk Buys
Search results can be filtered by many different attributes like 'colour' or 'brand'. In this case, you can filter by 'Bulk Buy'.
Meet the minimum quantities
Bulk buys have a minimum quantity you must order to activate the bulk buy price for the item.