STEM 101: Unexpected STEM Learning Activities Kids Can Try at Home
Education
| By Amy Vagne
| October 21, 2020
STEM-based learning and education is easy to take on with these activities, games and experiences that will help kids to learn STEM basics at home.
Get your kids to learn to love STEM (Science, Technology, Engineering & Mathematics) and you'll set them up for life! STEM-based learning and skills are an important part of a child's education because it teaches them to innovate, problem solve and think critically. Plus, experts predict that in the coming years 75% of new jobs will require qualifications or skills in the STEM fields. The following activities are super fun and easy to set up at home. Your kids won't even realise they're learning, they'll be too busy having a blast.
Ice Cube Play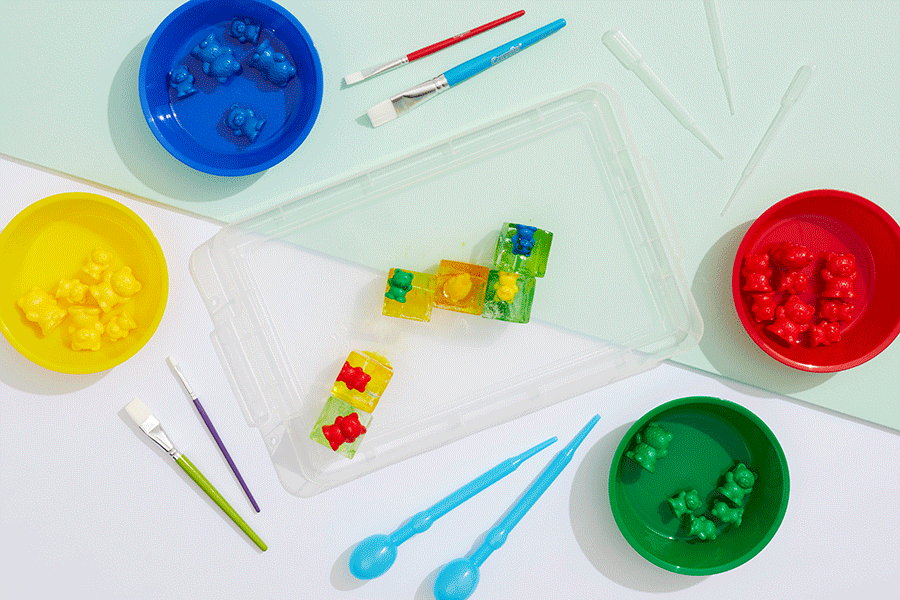 This sensory activity for preschoolers is simple frozen fun and encourages kids to learn observation and prediction, key STEM-based skills. You'll need to do a little prep the night before: make ice cubes using a large ice cube tray or silicone cupcake moulds. To make things extra exciting, add food coloring and a few plastic figurines. Once kids are ready to play, pop the ice cubes out onto a tray, and let them go wild with salt, eye droppers, squirt bottles, scoops, paintbrushes, and cups of warm and cold water. Encourage them to experiment until the ice has melted and all the toys are released.
What You'll Need
Pom Pom Drop

Collect a bunch of cardboard tubes (the kind used in toilet paper and paper towel rolls). Snip a small square out of one end of each tube. Now help your kiddos create a configuration of connected sloping tubes and stick them to a wall or a window using washi tape. Drop pompoms into the tubes and watch them fall and bounce. See if kids can position a bucket to catch the pompoms. Such an entertaining way to explore STEM based learning: discover the properties of gravity and test out their deductive reasoning.
What You'll Need
SEE ALSO: Fun STEM Learning with Sensory Play Ideas for Kids
The Big Count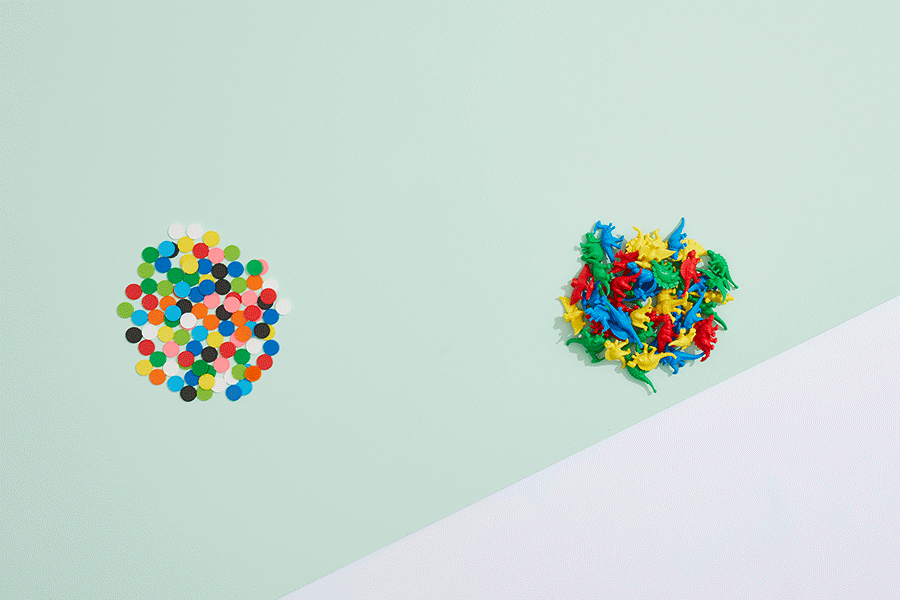 It may sound crazy but younger kids find this really fun, we promise! It will also boost their number skills. Win-win. Present your child with a bucket of counters or coins and ask them to count out 100 pieces. You could set a timer and have a counting race, or get them to sort their 100 pieces into smaller groups of 10, 20 or 25. Once they're done counting, try lining up the counters end-to-end and see how long the line is.
What You'll Need
Build A House

Here's an ace engineering challenge: ask your kids to design, build and decorate their own mini-house. Amass craft supplies like cardboard, wood, popsicle sticks, glue, tape, paint and bits and pieces to decorate. Once they've made a masterpiece worthy of Grand Designs Australia, get them to talk you through it – what rooms have they made? Where are the doors and windows? Is there any furniture inside? Who is the house for – dolls? fairies? a pet mouse? We love this idea as it allows kids to be creative and develop their fine motor skills.
What You'll Need
Balloon-Powered Cars

Start your engines! This science-based task is a total winner. Raid the recycling bin for car-building materials, like plastic bottles, cardboard boxes, straws, bottle tops, sticks etc and get the kids to construct their own car racer. Once the kids have made their very own vehicles, get ready to race them. Insert a straw through the neck of an uninflated balloon and attach to each and every car, then practise launching them across the room by blowing up the balloons through the straw and then releasing them. Sure, it's good old-fashioned noisy fun, but you're also slipping in a sneaky STEM lesson about motion and kinetic energy.
What You'll Need
Simple Sand Activities

Playing with sand is so good for kids because it's soothing, develops dexterity, engages the senses, and promotes creativity and experimentation. Set up a sand table or station at your place and invite kids to make sand castles, dig for buried toys, draw letters and numbers and pour it into cups and containers. Magic sand is extra special because it's mouldable, almost like play dough. Kids can make shapes and engage in imaginative play, like running a sandy bakery or creating an obstacle course for their toy cars and trucks.
What You'll Need
Make A Magnet Maze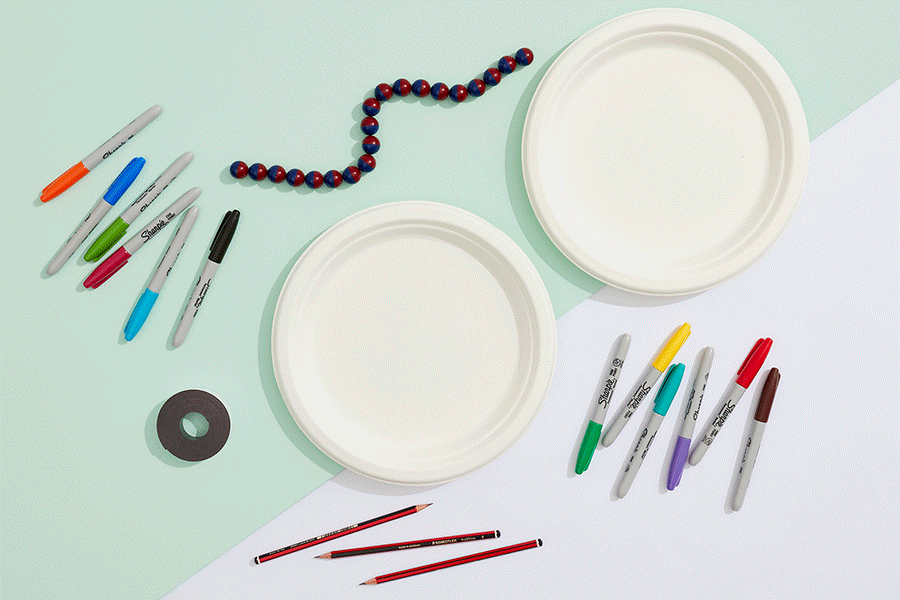 The fun never stops with this amazing activity – kids can make a maze to keep, or swap and share with their friends. Start them off drawing a maze onto a paper plate using a lead pencil. Once they're happy with their maze design, they can trace over it using a permanent marker. Next, using cardboard or another paper plate, draw a little avatar to help you solve the maze – it might be a little teddy bear or a mini rocket. Colour your avatar, cut it out and stick it to a small magnet. Now take a regular pencil and stick another magnet to its tip to make a magnet wand. Use the magnet wand underneath your paper plate to direct your avatar through the maze.
What You'll Need
Marble Run Fun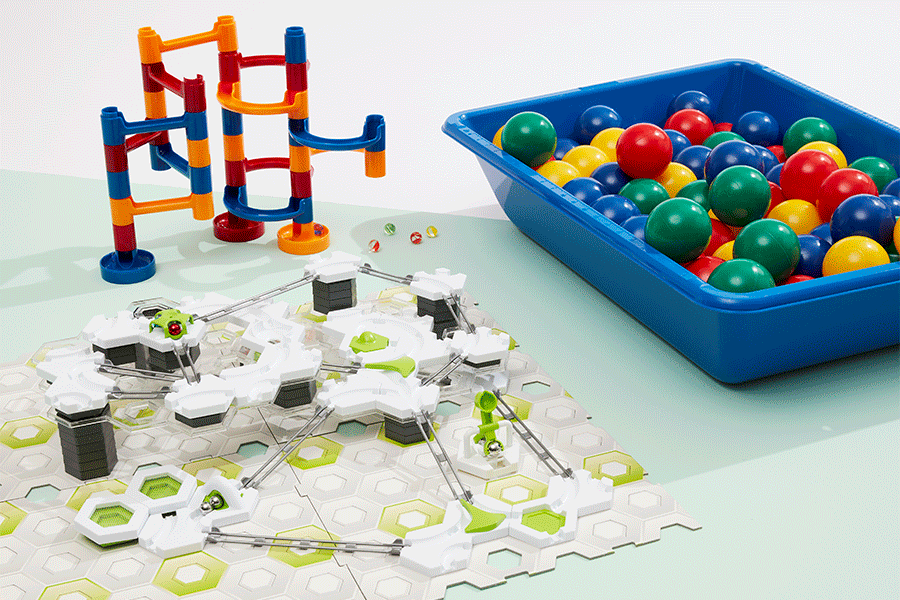 Teach them about gravity and work on their logic skills with a classic marble run. Construct your own using mailing tubes and large plastic balls, or invest in a special marble run kit. Marble play is pretty popular right now, with many brands producing interesting kits and accessories. GraviTrax is a one to look out for – they offer awesome add-ons like mini trampolines and elevators to take your marble track to the next level.
What You'll Need
Secret Soapy Messages
Step into the bathroom for this squeaky clean slice of STEM fun. Give kids a cotton bud and a cup of soapy water (add two drops of dishwashing liquid to a small cup of water). Dip the cotton bud into the soapy water, and get them to write a message or two on the bathroom mirror. Turn the shower on and let steam fill up the room – suddenly the secret mirror message will be revealed.
What You'll Need
Information correct at time of publication. Global trade conditions may impact availability of some items. We apologise for any inconvenience.