Solo Play Ideas for Kids: Problem-Solving, Games and Craft
Learning
| By Amy Vagne
| June 9, 2020
These clever solo play ideas for kids include problem-solving, activities, games and craft. Independent play means much-needed downtime for you – and your kids!
These solo play ideas will ensure kids are doing a whole lot more than just having fun when you leave them to their own devices. Playing alone has many benefits, including helping essential cognitive development (such as problem-solving), boosting creativity and calming frayed nerves. A spot of quiet time is when kids make sense of the world, solidifying the concepts and knowledge they've absorbed during the day. Have a stash of toys and arts and crafts gear on hand and away they go.
Solo Play Activities to Calm Kids
A session of solo playtime is the perfect antidote to being overstimulated. After a long day at school or day care (or even at homeschool), kids need quiet moments of solitude to help them decompress and transition towards bedtime.

Reading is an A+ activity for calming kids because it's silent (usually!), passive and absorbing. Books don't need an adult to operate them, either. Even if your child can't read yet, they can still turn the pages and look at the pictures, escaping into another world.

Colouring in is also a great de-stresser, so hand them a pack of crayons and set them off on the path to mindfulness. If your little people are old enough to write and draw, journalling is also a wonderful method of inspiring calm reflection. All you need is a notebook and a stack of coloured markers.

While it may not be all that calming for you, music is another way that kids can unwind. Having them bash away on a drum or xylophone can help vent their frustrations. Or set up a wireless speaker and play them some soothing music or an engaging audiobook.
Kids Books and Toys to Try
Get Crafty with Your Solo Play
Nothing captures a kid's attention like good old-fashioned arts and crafts. Buy yourself 20 minutes (at least!) of uninterrupted child-led play with some creative craft supplies.

Fabric markers and puffy paints get two huge thumbs up – set kids up to decorate a T-shirt or tote bag and they'll have a blast playing alone. Fun Shapes are another cool craft toy – cardboard silhouettes of fairies and dinosaurs, ready to be jazzed up with markers or paint. Stencils and lettering kits are also lots of fun and promote literacy and handwriting skills.

But one of the best solo activities is playdough. Calming and tactile, it lets kids of all sizes get stuck in with their hands. Their little imaginations can be ignited by making colourful cupcakes or crazy creatures – it allows for endless fun.
Kids Craft Kits to Try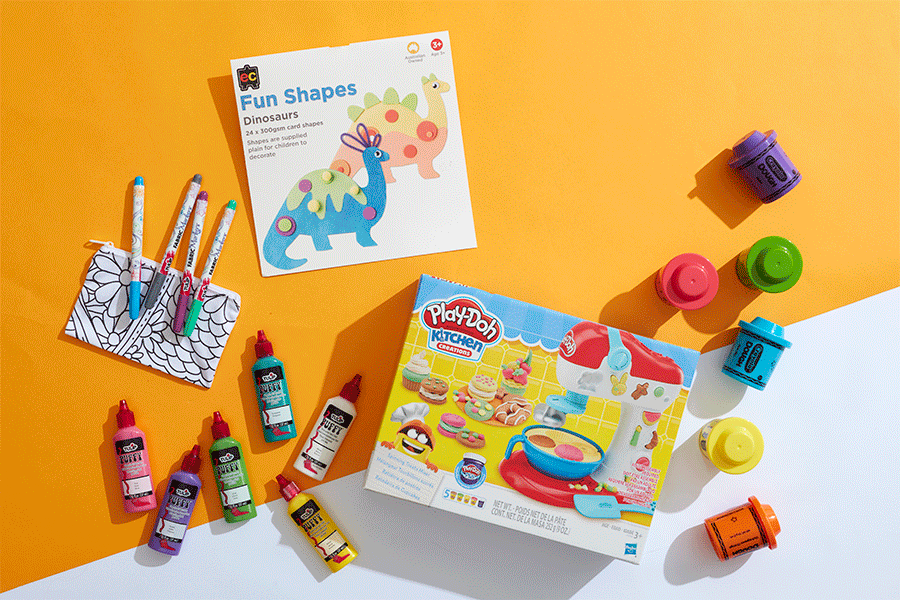 Opt for Solo Play with Educational Value
When kids are having fun playing alone while also giving their brains a boost, we call it a win-win. Guide them towards this kind of independent play and you'll both reap the rewards. There's a wide array of toys and games out there designed to increase cognitive function, such as problem-solving and development.

Jigsaw puzzles are a classic for a reason – they improve memory, assist with shape recognition and hand-eye coordination and require logical reasoning. There are puzzles for every age and stage, from simple wooden puzzles to 500-piece behemoths. You can also develop their STEM skills with a pack of wooden blocks; try counting, sorting and building towers and mazes. Or try some problem-solving techniques with pattern blocks and boards.

Kids can get a lot out of activity books, with challenges such as dot-to-dots, mazes and word searches to sharpen their minds. The GraviTrax Track System Starter Kit for kids aged 8 and up is educational and also loads of fun. It's basically a souped-up marble run, where you assemble tracks and obstacles, which also teaches kids about gravity, magnets and kinetic energy. Or you could just go for a good old-fashioned marble run.
Puzzles and Educational Games to Try
Try Kids Activities That Model the Real World
When kids play, alone or otherwise, an important aspect is practicing skills and knowledge they've taken from the real world. Mimicking doing the cooking or mowing the lawn is not only fun, it's helping them pick up basic skills and learn more about the world. Plastic or wooden play foods are oodles of fun for little ones; they can set up a grocery store or play chef in the kitchen.

Felt storyboards encourage imaginative role-play in real-life settings, like the garden or police station. We love the Melissa & Doug Round the Town rug – it's more than just a decorative statement. Children can spend hours building up their town and driving around with toy trains and cars.

Puppets are also a great way for kids to explore emotions and experiment with storytelling. Why not encourage them to practise their own puppet show?

For developing competency with numbers and telling the time, a clock puzzle is a really good investment. Flashcards are also a valuable way to spend solo time – they can help reinforce vocabulary, while working on number, letter and colour recognition.
Toys and Activities to Try
Info! Information correct at time of publication. Global trade conditions may impact availability of some items. We apologise for any inconvenience.