STEM Test Drive: Makeblock Neuron Inventor Robotics Kit Review
Education
| By Deborah Grunfeld
| September 11, 2020
We asked our early primary experts to road test and review the Makeblock Neuron Inventor Robotics Kit – and give us their feedback on this cool STEM kids toy.
Say "Hi" to 7-year-old Summer and Arthur, 8, our early primary schoolchildren in the STEM toy review hotseat. Their challenge? To investigate the potential of the Makeblock Neuron Inventor Robotics Kit. After the excitement of checking out "What's in the box?", the kids got to work, transforming the components, with the help of the accompanying app, into two lights-flashing, gizmo-enhanced finished creations – a digital paint palette and an electric guitar.
The STEM Toy
Kids will get a buzz out of the Makeblock Neuron Inventor Robotics Kit – literally. As well as the included buzzer, the kit includes paper accessories for guided projects and some 20+ intriguing modular pieces, such as an LED light panel, a motor, a joystick, and sound and light sensors, all of which easily click together to create electronic devices. To top it off, these devices can not only be coded but the main components are magnetic, so creations can be displayed on the fridge. Cool!
What You'll Need
The Educational Experience
Suitable for ages 6 and up, the Makeblock Neuron Inventor Robotics Kit encourages STEM learning in the areas of electronics, robotics and programming. The parts are designed to be safe and easy to use by small hands developing fine motor skills, as well as colour coded for ease of understanding (e.g. orange for input, blue for output). The accompanying Neuron app lets even young children learn how to use simple block-based programming, a first step to developing coding skills. The drag-and-drop language makes testing code fun, as results are immediate, improving innate understanding of programming principles.

Once the basics are mastered, perhaps by completing several of the projects suggested by the app, there is the opportunity to develop open-ended creativity and problem solving skills by encouraging little inventors to put the pieces together in their own way and come up with designs and ideas of their own creation. Those ready for more challenging programming skills can move on to using the mBlock 5 graphic programming code with these components.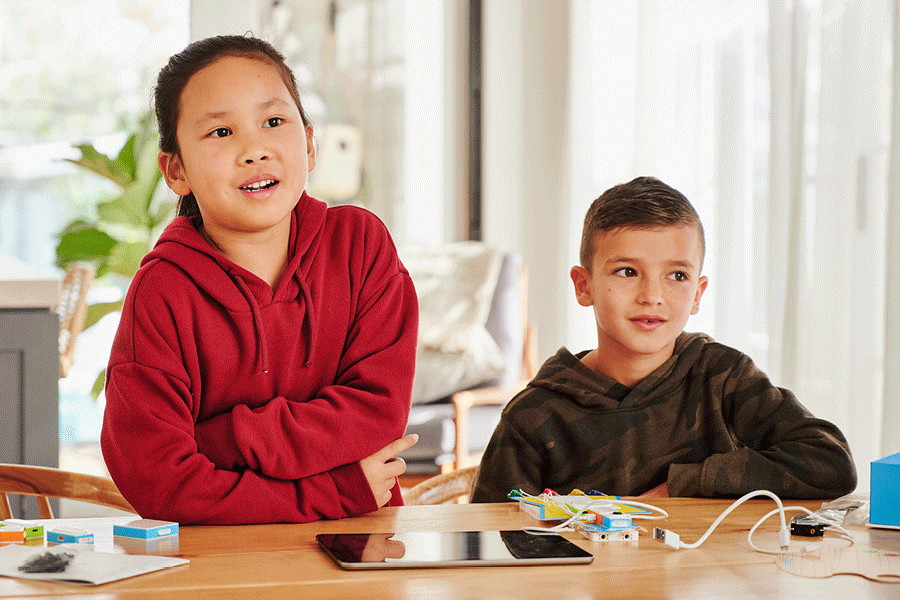 The Verdict
Arthur likes the Makeblock Neuron Inventor Robotics Kit "because it makes us think." To sum it up: "It's really cool." Summer agrees, "It's really fun to play with."
Our Panel's Rating Out of 10
Arthur says, "I give it 7 out of 10". As for Summer, "I gave it a 10 out of 9." Okay, then!
Information correct at time of publication. Global trade conditions may impact availability of some items. We apologise for any inconvenience.