STEM Test Drive: Thinkfun Colour Cube Sudoku Puzzle Review
Learn
| By Deborah Grunfeld
| March 1, 2021
We asked our primary school experts to review a Thinkfun Colour Cube Sudoku Puzzle kit – and give us their feedback on this cool STEM kids toy..
Stepping up to take the STEM toy review challenge are primary school children Konan, 9, and Ava, 10. These clever cookies put their brains into high gear to figure out how to conquer the Thinkfun Colour Cube Sudoku Puzzle, a challenging toy where Rubik's-like blocks are arranged so each colour gets its fair share of the limelight.
The STEM Toy
Part of the educational Thinkfun range, the deceptively difficult Colour Cube Sudoku Puzzle has nine blocks, each of which feature a different set of four colours in varying positions on their sides. The tricky part? Twisting and turning the cubes so that when placed in the display tray, no row or column contains the same hue twice. Sounds easy? With 2,641,807,540,224 possible arrangements but only 665,856 solutions, the Sudoku Puzzle can be quite the brain twister. (If you do give up, the instruction manual includes a cheat sheet sample solution – as well as four bonus challenges to stretch young minds a little more!)
The Educational Experience
The Thinkfun Colour Cube Sudoku Puzzle exercises logic and problem-solving skills, as the blocks are shuffled and twisted until no colour is repeated horizontally or vertically. Unlike traditional Sudoku, which usually involves a pen and paper, this toy is great for encouraging trial and error as a method of problem solving – there are no repercussions to placing the cube in the wrong place; just pick it up and have another go.
The puzzle helps with strategy development and the understanding of the mathematical concept of "permutation". Another key learning objective here: resilience! If at first you don't succeed, try, and try again. Adults can encourage kids with questions and comments like, "What colours are missing from this row?", "Can you find the block with those colours?", and, "Now, how can we twist the cube with those colours so it doesn't affect the other bits you have done?" Though any age child will have fun making patterns or building towers with the colourful and sturdy blocks, for the actual puzzle solving of this Sudoku game, it is recommended for ages 8 and up.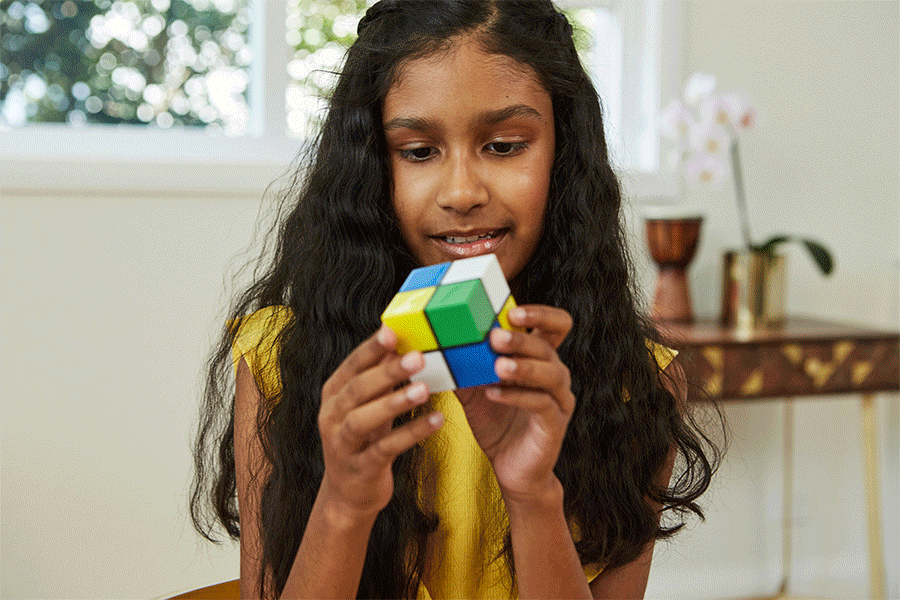 The Verdict
"It's so exciting," says Konan. "I really like how there are so many ways that you could do it." Ava appreciated that the Colour Cube Sudoku Puzzle was a bit tricky. "If you mess up one, all of it can be messed up," she says, but then adds, "even though there's lots of ways to get it wrong, it's still very fun. I would recommend this to my friends because they love challenges."
Our Panel's Rating Out of 10
Ava awards the Sudoku Puzzle 8 stars out of 10: "It's a very good challenge," she says. "I rate Sudoku 9 out of 10," says Konan. "It's a fun little game to play when you've got nothing to do on a rainy day."
Information correct at time of publication. Global trade conditions may impact availability of some items. We apologise for any inconvenience.