STEM Test Drive: Build a Bot Light Up Robotics Kit Review
Learn
| By Deborah Grunfeld
| February 5, 2021
We asked our primary school experts to review a Build a Bot Light Up Robotics Kit – and give us their feedback on this cool STEM kids toy.
Stepping up to take the STEM toy review challenge are primary school children William, Adeline and Kaspar, all 8 years old. They work together to assemble the Build a Bot Light Up Robotics Kit Lion, a cute animal-inspired robot, before enjoying their new feline friend that can jump and roam around!.
The STEM Toy
With its light-up crystal mane and huge eyes, this lion from the Build a Bot series of make-your-own robot pets is anything but terrifying – it's more like a not-so-furry bodyguard to help your little one sleep tight. But first and foremost, it's a fun STEM toy for children who love to build, with pieces that click together to create the animated pet. An adult may need to help with inserting the batteries, and you will need a Phillips-head screwdriver and two AA batteries (not included). When the assembly is done, kids can add sticker eyes and other decorations before completing the finishing touch, filling in the accompanying "Build Certificate".
The beauty of a Build a Bot is that there's more to enjoy once the build is done. When you pat the lion's head, the light-up mane changes colour; lift its tail and it jumps to order; or keep your human cubs happy when the sun goes down by using it as a night light (it even turns itself off after 20 minutes to save battery life). It's also possible to take the 3D puzzle apart and build again another day… or mix and match with other bots in the series, such as the Build a Bot Zebra, to create a zebra-lion — a libra? A zebron? Cue whinny-roars!
The Educational Experience
Children as young as 4 can play with the Build a Bot Lion, though those under 8 may need help with assembly. As your junior bot builders follow the step-by-step instructions to snap together the 20+ numbered pieces, they are boosting their brain power, practising the STEM skills of pattern recognition, spatial awareness (key in placing the left paw versus the right paw and rotating the pieces to fit) and following procedures, as well as working their hand-eye coordination and fine motor skill development. With the incentive of having a fun toy as an end goal, this robot build is a task complex enough to be gratifying but not too difficult to be frustrating, and is a great project for more than one child to work on simultaneously as an exercise in collaboration.
The included learning guide gives information about engineering concepts such as motors and levers and explains the science behind LED sensors and light refraction and, once completed, the bot uses a very simple coding instruction: the number of times you lift the tail is the number of times your lion cub will jump, up to 10 times.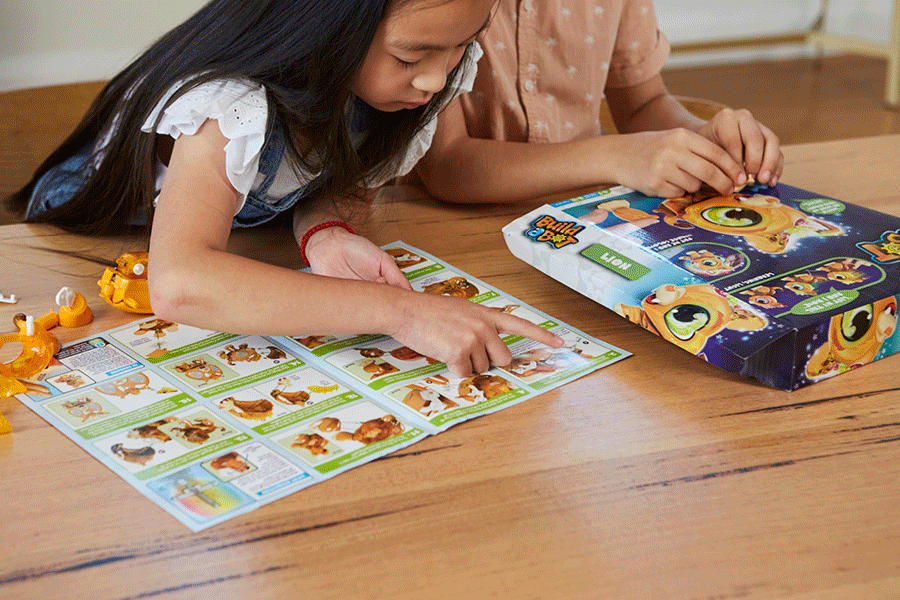 The Verdict
"That's so cool," says Adeline when she makes the Build a Bot Lion jump. "It's lifting its bum," she giggles. "It is so cute," agrees Kaspar. "My favourite part was putting on the stickers," says William. "I would recommend this to my friends," Adeline sums up, "because he can jump and they would like how the lights flash."
Our Panel's Rating Out of 10
For the assembly part, "I would give the Build a Bot Lion 6 out of 10," says Kaspar. "The instructions are a little bit confusing," he explains, "but it is pretty cool once you've built it." The other two were more enthusiastic. "I would give a Build a Bot Lion 10 stars out of 10," says William. Adeline agrees, "10 out of 10. It's so cool!"
<
Information correct at time of publication. Global trade conditions may impact availability of some items. We apologise for any inconvenience.