Best Desk Setups for Students: Essential Study Supplies for Every Age
Learn
| By Amy Vagne
| February 1, 2021
These are the essential supplies students of all ages need so they can create the best desk setup for productivity and better study.
Having the right setup, with suitable supplies close at hand and an eye on efficiency and ergonomics, truly helps kids be more productive and focus more easily — and that goes for all ages, whether their homework involves colouring in or algebra. This list of essential school supplies will help create the best at-home desk setup for productivity. And, if you haven't yet tackled the back-to-school shopping, simply upload your shopping list to Officeworks' School List Service and let the team do the hard work for you.
Stage 1: Kindy, Years 1 and 2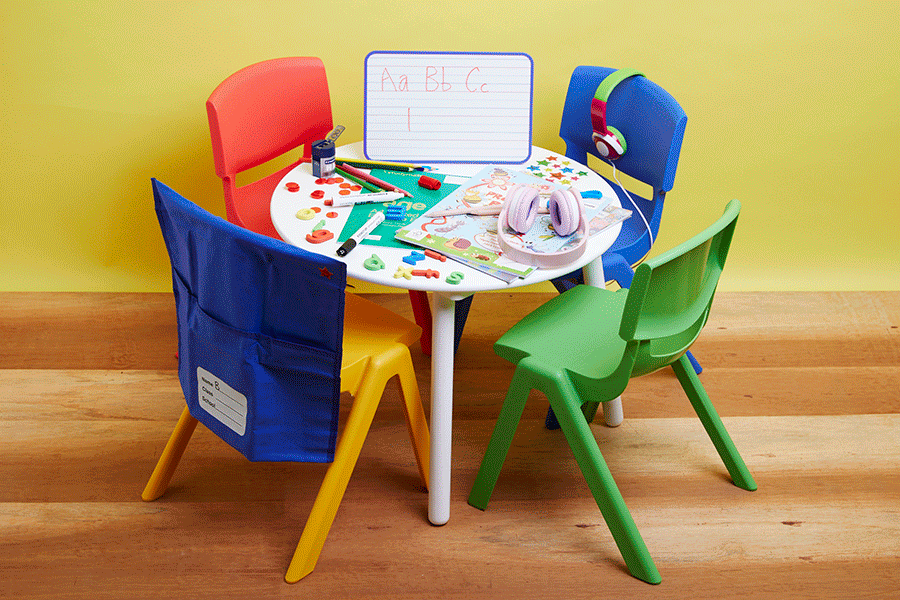 In the early years of primary school, kids don't get a lot of homework. But they do need to master the basics — this means daily reading and writing practice, as well as working on their number facts. To that end, ensure your little students have their own special space to sit down and do their work — a sturdy table and small chair will do the job — and help them set up good homework habits for the future.
HOT TIP At this age kids need help keeping things tidy. Ditch the fluffy pencil cases and overflowing caddies of markers and crayons and just keep the essentials close at hand. An over-the-chair bag is a handy way to keep everything streamlined and orderly while keeping the desk space clear.
What They'll Need
Scissors and Glue Scissor skills are considered an important part of the curriculum. Cut-and-paste activities help develop fine motor skills, increase hand strength and improve coordination.
Mini Whiteboard and Whiteboard Markers As recommended by primary teachers, mini whiteboards are great for getting kids to jump in and have a go. They can practise their letters, do sums and draw pictures, then easily rub out their efforts and have another try. It's a great way to teach them that imperfect attempts are a natural part of the learning process and not to be feared. And it saves on paper, too.
Counters Before they can master multiplication and other big number concepts, kids need hands-on resources to help them model the basics, including addition and subtraction problems. You'll find these must-have "manipulatives" in every primary school classroom around Australia. Grab some for home to help boost their learning.
Lead Pencils and a Pencil Sharpener Before Year 4 or 5, many schools prefer their students not to use pens. Until then, it's all about the pencil for ease of use in learning how to shape those letters and numbers. Jumbo triangular pencils are more comfortable for small hands and encourage the correct pen grip.
Colouring Pencils Drawing and colouring in aren't just for fun, they're incredibly important for cognitive development, boosting fine motor skills and hand-eye coordination. Plus, there's increasing evidence to suggest colouring has a calming effect and reduces anxiety and stress.
Alphabet Magnets These can be used in many different ways to help young readers improve their sound, alphabet and spelling skills. Pop them on your fridge, or a special magnetic whiteboard.
Stickers The end goal for kids of this age should be to make homework and learning fun and enjoyable, so use stickers and the like to reward effort, not results.
What To Try
Stage 2: Years 3 and 4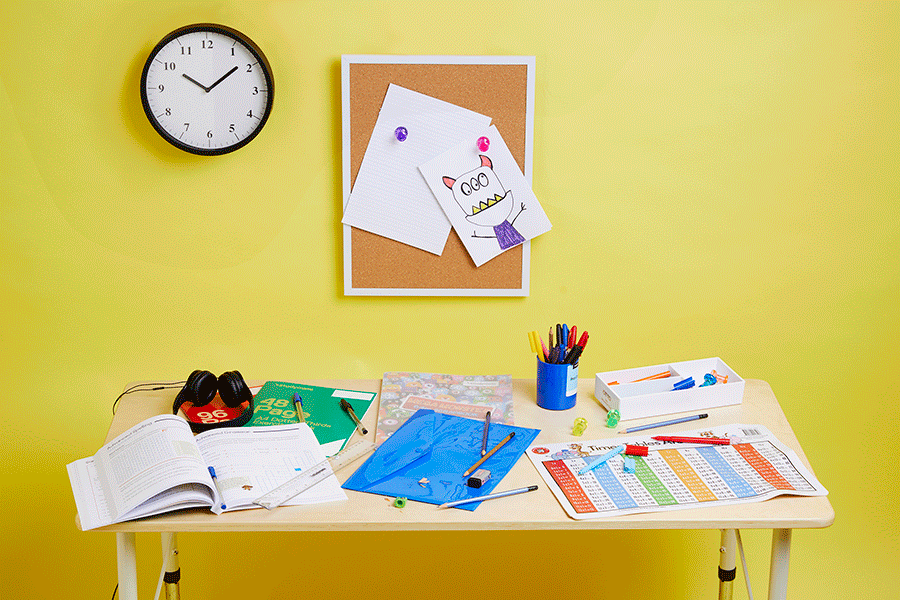 At this point, it might be time to update your child to a proper desk as soon they'll be spending more and more time here. Consider a table that's height adjustable so it can grow with them. By Stage 2, kids are able to work a bit more independently and start tackling more challenging and in-depth areas in the lead up to Years 5 and 6.
What They'll Need
What To Try
Stage 3: Years 5 and 6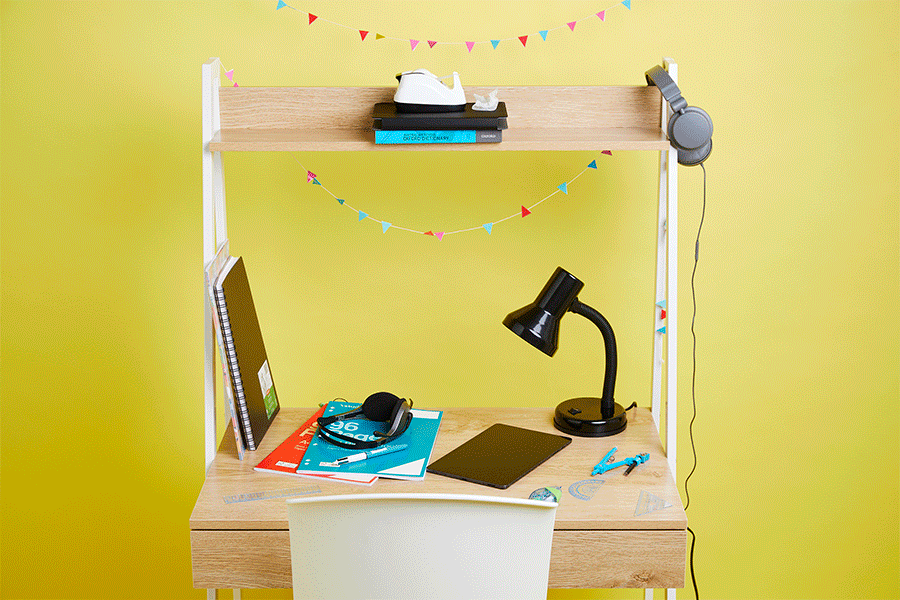 As children enter Stage 3, the focus shifts to getting them ready for high school. Gradually their homework and assignments will begin to increase, so it's important to choose a desk and chair that are comfortable and ergonomic. The best desk setup is as inviting as possible to encourage them to spend time here — invest in a decent lamp and order cool stationery and desk accessories.
HOT TIP If their bedroom is short on space, a hutch desk (a desk with a set of shelves on top) could be a clever solution.
What They'll Need
What To Try
Stage 4: Years 7 and 8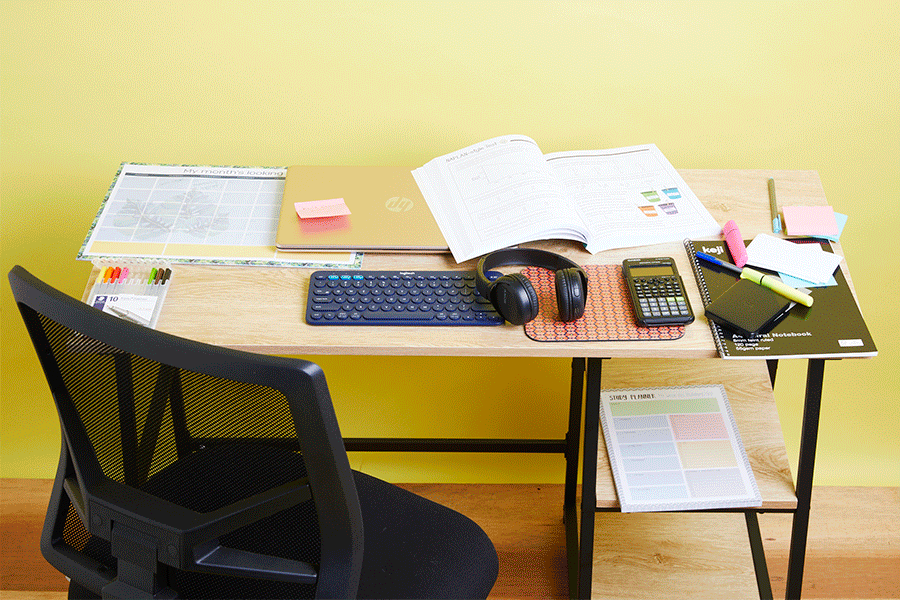 This is when studying gets super serious, with exams and assignments coming out of their ears. Set them up for success by gathering the essentials — a strong desk with plenty of storage space, a comfortable and supportive chair for long sitting sessions and a new laptop with solid internet connectivity.
HOT TIP Reconsider the computer setup if they're spending long periods of time working away. Hunching over a laptop can lead to neck and back problems, while squinting at a small screen is a one-way ticket to eye strain. Most occupational therapists recommend an external mouse and keyboard with the laptop positioned up on a platform. Eyes should be level with the top of the computer screen.
What They'll Need
What To Try
Information correct at time of publication. Global trade conditions may impact availability of some items. We apologise for any inconvenience.