Expert Tips to Capture and Keep First-Day-of-School Memories
Education
| By Jessica Irvine
| January 11, 2021
Try these easy ideas to make the big moment a happy – and lasting – one.
You've probably seen the popular meme, a photographic comparison of two moments in a person's life with the words: 'How it Started' and 'How it's Going'. There's a reason it went viral. Looking at how a person changes over time is undeniably compelling, particularly when those snapshots are taken in milestone moments. One of the greatest milestones in your family life? The first day of school. But waving young ones off to 'big school' can be emotional for everyone. One way to keep stress at bay is to make capturing those first day of school memories a family project, from taking the photos to displaying them in creative ways. Here's how.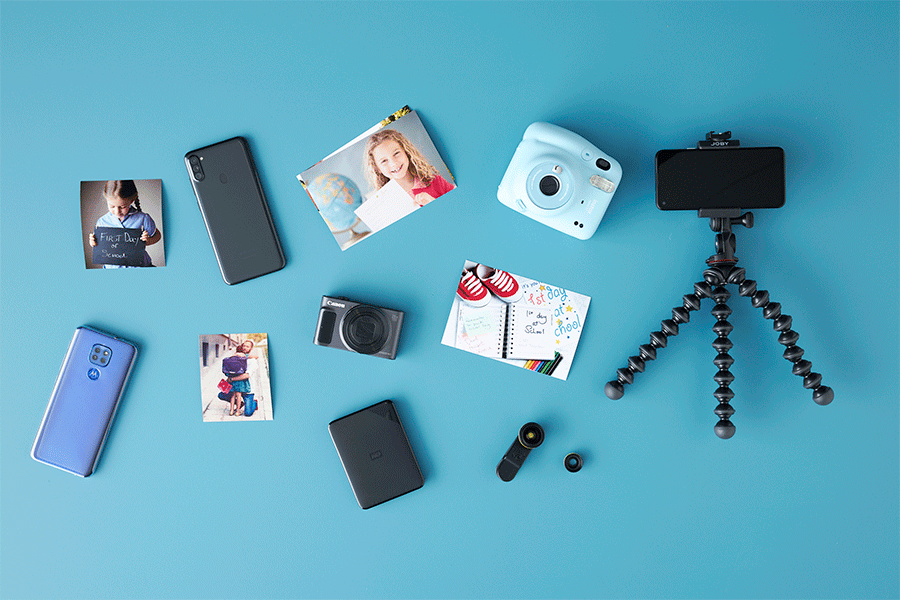 How to Get the Best First-Day-of-School Photos
Make sure your smartphone or camera is fully charged before you head out the door – this is one moment you don't want its battery to be dying! If you're using a smartphone, make sure the camera is in portrait mode for the best results. You can even make use of accessories such as lenses to optimise its camera, or if you want to take some videos, use a stabiliser for a non-shaky film.
Take some casual shots at home "to get your little one warmed up," says Stephanie Simcox, winner of the National Photographic Portrait Prize 2018 Art Handlers' Award. "Even getting your child to take a few pictures of you first can break that nervous barrier and make it fun." Keep the mood upbeat on school grounds by getting snaps with a sibling or friend. "It makes that unknown space feel more welcoming," says Stephanie. For an added layer of fun, let your child play with an instant camera to take some pictures from their perspective and print the results in minutes.
Once they're relaxed, try these first-day-of-school photo ideas for some solo shots. "Aim for a full, mid and environmental picture – one close up in uniform (kneel down to their level to get eyes to camera); pull back, staying low, to get the full uniform in shot; then take a few steps back to show where you are – find a nice wall, tree or school sign to pose in front of."
On a smartphone, use a portrait setting. Otherwise, look for some even light. "It makes a huge difference," says Stephanie, adding that the subtle shade of a tree works well. "If you're inside, place your little one by a window and let that soft light filter through." Got a more advanced camera? Stephanie says a 50mm lens is what your eye sees naturally, making it a good focal length to start with. And how to get around closed eyes in pics? "Have your kids close their eyes, then open them on 1, 2, 3! Even if it's a sunny day, they won't be squinting – you'll get bright wide eyes."
What To Try
<
Easy Ideas to Frame and Display School Photos
Start a photo album dedicated solely to "My First Day" moments – first day of each school year, first day of their first job, first day of university and so on (one day it might even include their first day of retirement!) Or use a collage photo frame to show a series of candid moments leading up to that school bell ringing – tying up shoelaces, wriggling into school bag straps, waving goodbye and so on.
Another clever idea to record school memories is to make a scrapbook. Start by sticking in your child's first day of school photos and having them write their name, then help them fill out a fun questionnaire with sentence starters like: "My favourite song is…"; "Favourite book…"; "Favourite game…"; "When I grow up I want to be a…". Continue the tradition at the beginning of each school year and see how their answers (and writing skills) change.
Make it more fun for kids by letting them decorate the scrapbook – think name stickers, stick-on gems, glitter glue, drawings – and make it more meaningful for you by including a note to your child each year with something you'd like them to remember about this time in their lives.
One last idea, decorate a photo frame together with "First Day of School 2021" – you can use letter stickers, glitter pens, a print out from the computer or even scrabble pieces. Or you could even create a giant photo frame out of cardboard for your child to hold around their face when you take those precious Back to School pics.
Creative Ways to Keep and Gift Your School Photos
While framed copies of your photos will always be a classic way to display family snaps (and make a treasured gift for extended family, particularly those who live far away), there are plenty more options available through >Officeworks Print & Copy services, from arty to quirky.
Involve your child in creating a photo book of memories – just choose the size and style of book (hardcover or soft, for example), upload the photos you want printed in it and then set about designing the album together. You can also have fun adding some first day of school quotes from your primary schooler to the pages, as well as customising the backgrounds and decorating with different borders.
Want something even more impactful? Turn these memories into an at-home art gallery by printing them on canvas to hang on your walls. One clever idea is to create a photo mosaic using a series of photos on canvases in different sizes to cluster together – or you could have one photo blown up and printed across several canvases for a chic, puzzle-like effect. Your favourite pictures can also make great go-anywhere gifts for grandparents and other loved ones by having them made into mugs or keyrings.
What To Try
Hot Tip: Allow 7-10 business days for processing of personalised products.
Information correct at time of publication. Global trade conditions may impact availability of some items. We apologise for any inconvenience.