Creative Christmas Gift Ideas to Surprise and Delight
GIFTING
| By Alexis Teasdale
| November 02, 2020
We've found the best creative gift ideas to DIY for your family and friends this Christmas, from designing aprons and jewellery to making Christmas pudding.
'Tis the season to be crafty! If you want to wrap up some handmade and heartfelt presents this year, we've come up with all sorts of creative gift ideas that will show them you know them. In this clever list, there's something for all your loved ones – parents, siblings, cousins, besties, and more.
Design an Apron

This present idea is perfect for the loved one you always count on for a batch of delicious Christmas shortbread. Paint or draw on a ready-made apron such as the Born Artist Apron, which can be worn straight away. A mess-free way to create your art is to use permanent markers, such as Sharpies or fabric markers, but if you're not feeling totally confident, you can sketch out your design in pencil first, then go over the top in marker.
What You'll Need
Tie-dye a Top

Thanks to so much home-time this year, comfy clothing has become an essential – but it doesn't have to be grey and sloppy! Tie-dye is back on trend and a fun activity to do at home. Buy or dig out a basic white nightie, tracksuit or t-shirt, pop on some gloves and start creating. Look for kits with cool colour palettes, instead of individual dyes, to ensure a final product that's more artistic than abstract.
What You'll Need
Prep a Christmas Cookie Jar

Gift a friend almost everything they need to bake their own Christmas cookies by layering all the dry ingredients beautifully in a jar. Buy a clear glass jar like the Lemon & Lime Glass Jar, then add in layers (tap the base of the jar to keep each layer straight) of chocolate buttons, cranberries, nuts, dried fruits, self-raising flour, brown sugar, spices and whatever extra dry essentials you use in your cookie recipe. Create your own label to pop on the front of the jar, with another on the back, listing the fresh elements they need to add, like butter and eggs. You never know – your giftees may turn up on your doorstep with a plate of treats down the track!
What You'll Need
Create a Unique Statement Necklace

Channel your inner designer by making a chunky bead necklace for a special piece of costume jewellery your aunt or mum won't find in any store. Paint wooden beads, like these Little Learner ones, with luminous metallic paints and leave to dry, before stringing them all together using ribbon or twine. Add a little wooden disc with a DIY design or Christmas message to finish.
What You'll Need
Design Custom Christmas Tree Ornaments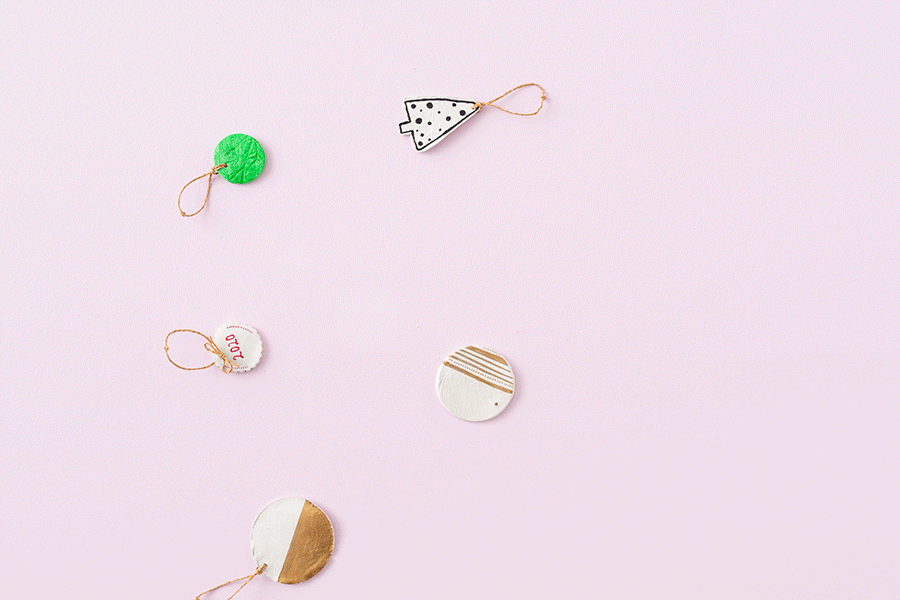 You can't get more festive than tree ornaments. Christmas decorations are presents that keep on giving, with family and friends able to display your talent on their tree year after year. Using air-dry clay, they're easy to make from scratch without needing to bake them in the oven (which also makes them an ideal family-friendly Christmas craft project). Simply cut out your shape – cookie cutters are an easy way to start – then add texture using materials, botanicals or even kitchen utensils. Once you're happy with the shape, add a hole to thread through the tie, leave it to dry and paint it or add colour using permanent markers. Don't forget to add the year and your initials on the back.
What You'll Need
Make a Home for Special Trinkets

A beautiful handmade box for a loved one's most treasured piece of jewellery is a thoughtful present – they'll think of you every time they open it up. Up-cycle an old box or look for a small, plain one at your local hardware store. Decorate it by either adding a personal message or by painting, drawing or even collaging, using images from magazines or photos. Pick a colour palette – like the dreamy ice-cream hues of the Reeves acrylic pastel pack – to keep the box design cohesive.
What You'll Need
Print a Placemat

Whip up something special for the Christmas Day table with DIY-designed placemats. Use ready-made mats such as the Little Learner Wooden Placemats or some small balsa wood pieces as your base. Then, print out designs at your local Officeworks to decorate them. Anything from old Christmas carol sheet music to photos of treasured moments will look so sweet on a festive table. Glue them onto the bases, and use a light brush of clear craft glue over the top to create a lacquered finish.
What You'll Need
More Present Ideas for Art-loving Friends
Information correct at time of publication. Global trade conditions may impact availability of some items. We apologise for any inconvenience.