10 Best Craft Kits for Kids in 2020
Education
| By Deborah Grunfeld
| October 15, 2020
Encourage your children's creativity with fun craft kits for kids that will entertain and educate, perfect for girls and boys of preschool and primary age.
There's nothing like a lazy crafternoon, lying on the floor sticking, painting and threading. If you need an excuse to indulge in some fun with your favourite little ones, try these craft kits for kids. Activities such as these are a great way to boost fine motor skills and develop STEM processing nous. As a family and friends project, it encourages teamwork, listening and discussion abilities. For adults, there's many demonstrated benefits to participating in arts and crafts, including increased brain productivity, confidence and stress reduction – and these apply to kids too. But aside from all the educational and health benefits, craft is just a whole heap of fun!

Sometimes it's great to let imaginations run wild with the flotsam and jetsam you have lying around, such as paint, craft paper, popsicle sticks, beads, toilet rolls and coloured string. Other days, it makes life a whole lot easier to have everything you need for a craft project ready to go in a convenient kit – so stock up for that literal rainy day to pull out and enjoy. (They also make great presents for emergency gifts!) Here, we let kids road-test craft kits and hand down their verdicts.
Galt Bouncy Balls Kit

Perfect: For budding scientists, ages 7 and above
It's the scientific craft kit that keeps on giving. First, experience transformation as small crystal particles become solid, rubbery balls, then test out Newton's Laws of Motion. Our favourite to try with these glow-in-the dark beauties? "For every action, there is an equal and opposite action." Bounce soft, bounce hard and experience for yourself!
Verdict: "It was fun because there was lots of steps," says Ginger, 9 (left). The best bit? "Bouncing it," says Charlie (right), also 9.
Galt Charm Bracelets Kit

Perfect: For best friends, ages 7 and above
A great activity for mates to do together, or for family bonding, this make-your-own bracelets kit lets them create up to seven friendship bracelets, add on a selection of metal charms, then swap the finished creations as mementos of their connection. This project develops dexterity as the beads are threaded and the charms attached.
Verdict: The best bit about making them? Says Phoebe, 7, "Everything. I get to put beads on to create my own design."
Kids Projects Ceramic Bowl Set

Perfect: For the practically minded, ages 8 and above
Here's a craft project that has practical uses after the creative stage: kids will love eating breakfast out of the ceramic bowls they have spent time lovingly decorating. While painting on the designs, you could talk about shapes, patterns and symmetry. Then bake the decorated bowls in the oven, fill with their favourite cereal, tuck in and enjoy.
Verdict: "I think it was kinda fun, using all the colours," says Lucas, 8. On second thought: "It was really fun!"
Galt Nail Art Kit

Perfect: For pamper-lovers, ages 7 and above
Have a spa day while you test their patience, concentration and fine-motor skills with this nail painting kit. Learn to apply polish with even strokes, wait till it dries and then position gems as the perfect finishing touch. As well as five standard varnish colours, the kit includes two glitter polishes and holographic strips and tattoos. Glamarama!
Verdict: "It's pretty good but the nails could've been a bit better," says Keira, 9. "But I'm happy with it."
Wood Worx Jet Fighter Kit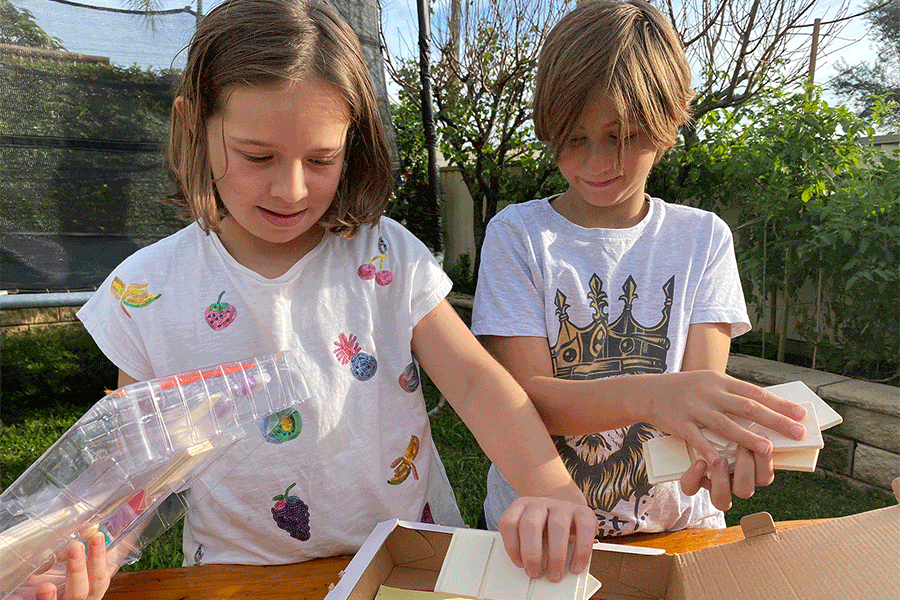 Perfect: For those with their eyes on the skies, ages 5 and above
After exercising hand-eye coordination (putting together the 27-piece glider) and creativity (decorating it with the included paint pots, brush and stickers), go to town and exercise brains with a glider throwing challenge. See how altering the launch angle and force of the throw changes the distance the little plane flies, try marking the landing spots with crosses of masking tape and record distances with measuring tape. Science is fun! For further aerodynamics investigation, see if you can make wind direction affect the distance travelled.
Verdict: "It looks really cool," says Ginger. "It even rolls; it has wheels!" says Charlie.
Melissa & Doug Design Your Own Bangles

Perfect: For jewellery aficionados, ages 5 and above
The clanking of bangles is a joyous sound; now your little ones can create their own, embellishing the four bangles included in this craft kit with glitter stickers and pearls. Indulge in some parent-child quality time and work on the kit together, discussing who in the family should get each bracelet and what kind of decorations, from rainbows to butterflies or sparkly silver stars each member of the clan would like.
Verdict: "Seven out of ten!", says Hugo, 8. "Eight out of ten!", says Keira, 9.
Wood Worx Jewellery Box Kit

Perfect: For mini-hoarders, ages 5 and up
A future home for all your little one's tiny keepsakes, this three-drawer jewellery box is fun in the making – it includes all you need to assemble, as well as paint and decorate the project – and it's a practical item once the craft is done, encouraging them to put away treasures that could easily get lost. Some dexterity is required in the assembly but older kids should be able to follow the instructions unaided. For an added feel-good factor, the product has FSC certification that it is made with sustainable wood.
Verdict: "It was fun," says Keira. "And I liked when you get to put stickers on."
Melissa & Doug My First Paint with Water Girl

Perfect: For budding artists, ages 3 and up
This My First Paint project is a brilliant one to pack and go. Bring along to a café or a meeting, set the kids up where you can keep an eye on them and leave them to it. All they'll need is a glass of water to dip the included brush into. 'Painting' with water on the 'magic' pages brings images vividly to life, thanks to the pigment embedded in the designs, and they still get all the hand-eye coordination and hand muscle strengthening benefits of more traditional painting activities – but without any of the messy splatter damage. For variety, there is also Melissa & Doug My First Paint with Water Boy.
Verdict: Harper, 4, says, "Good! I made pictures and I liked them."
Melissa & Doug On the Go Scratch Art Book Vehicle

Perfect: For young car lovers, ages 5 and up
This is another craft activity that's great to keep them busy on the road, especially perfect as this scratch and reveal book is vehicle-themed. There is built-in storage for the stylus which etches away the matte coating on the pages to reveal the colours beneath. It is a great activity for hand-strengthening, which is essential for writing. They will be having so much fun playing peek-a-boo with the images, they won't even know they are learning and developing new skills.
Verdict: "I liked it a lot!" says Louis, 8. "I'd give it five out of five and I'd definitely tell my friends."
Melissa & Doug Make-a-Face Crazy Animals Stickers

Perfect: For zoologists in training, ages 5 and up
Once the hard work of sticking stickers is completed, the 20 large format cute animal illustrations in this kit could be a great wall frieze your little crafter can be proud of. In the making, there is some tricky fine motor skill development through placing the stickers; pattern recognition as they match the stickers to their correct slots; and even a biology lesson where you can discuss the attributes of well-known animals – zebras have stripes, giraffes have spots! Or have fun and break all the rules: let their imaginations run riot to create crazy miss-matched animals like a monkey-dog or a rabbit-elephant – a rabephant?
Verdict: "I thought it was really amazing," says Phoebe, 7. "I got to choose where I wanted the stickers to go."
Information correct at time of publication. Global trade conditions may impact availability of some items. We apologise for any inconvenience.